'Let foster children stay until 21', charity urges Wales ministers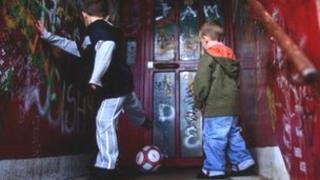 All foster children in Wales should be allowed to stay with their carers until the age of 21 like their counterparts in England, two charities say.
Action for Children and Fostering Network Wales say councils in Wales should have a legal duty to provide for older fostered children.
Wales is trialling a scheme that allows some of around 4,400 children in foster care to stay beyond the age of 18.
The Welsh government said it would pass on lessons from the pilot scheme.
The UK government has announced that children in care in England will be able to stay with their foster families until their 21st birthday, rather than having to leave at 18.
The Department for Education has £40m over the next three years to fund the plan.
Care charities have called it the most significant reform for children in care in a generation.
The change will be introduced during the third reading of the Children and Families Bill in 2014.
On the day UK ministers announced the move, Action for Children and Fostering Network Wales launched a campaign on the steps of the Senedd for the same change in Wales.
Action for Children chief executive Dame Clare Tickell said: "Most parents wouldn't dream of letting their children leave home before they were ready, and we ask that the Welsh government do the same for children in the care system.
"We believe that the Welsh government must give young people in care the same chance to stay in a loving home that others of the same age get.
"Many care leavers are forced out of the care system and into a lonely, confusing and sometimes dangerous independent life.
"The trauma that many young people experience before being taken into care can mean that they are not ready to live independently at 18 years old."
Providing 'stability'
Fostering Network Wales director Freda Lewis said: "While most young people now stay with their families until at least 24, some of the most vulnerable in society - those who have been in care - have to leave by the time they are 18.
"If the Welsh government provides stability for young people by allowing them to stay with their foster carers post-17, it will vastly improve their chances of a successful and prosperous adulthood."
A Welsh government spokesperson said: "Work has already begun with the Welsh Local Government Association and the Association of Directors of Social Services Cymru to introduce the When I am Ready scheme in pioneer areas to enable young people to remain with their former foster carers beyond the age of 18.
"When I am Ready pilots are underway until next spring and we will use the lessons learned in these areas to develop guidance to apply across Wales.
"Local authorities will then need to find ways to implement the scheme in their areas and reflect this in their commissioning of placements for 18 to 21-year-old care leavers."