Swansea Bay tidal lagoon 'to power £300m spend'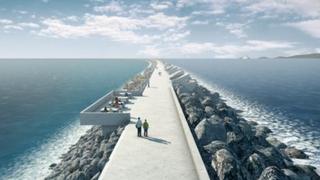 A proposed tidal lagoon in Swansea Bay could generate a £300m spend in Wales, according to economists.
The £756m project would see a six-mile-long U-shaped seawall run from Swansea docks to near the site of Swansea University's new Fabian Way campus.
The firm behind it, Tidal Lagoon Swansea Bay Ltd, said the scheme could generate 420,000 MWh of energy per year - enough to supply 121,000 homes.
The developer commissioned a report by Cardiff University.
Its Welsh Economy Research Unit found if the lagoon is completed to time - by 2017 - it would equate to around 1,850 full time equivalent jobs across the region for the three year construction period.
There would also be 60 long-term operational jobs and up to 90 additional jobs linked to visitor spending.
The unit says the lagoon would create over £5m annual local spend during the operational phase.
"The focus of job creation and support in manufacturing and construction sectors is important in the context of current challenges facing the Swansea Bay and Welsh economies," said Professor Max Munday, director of the Welsh Economy Research Unit.
He added: "It is important to note that Tidal Lagoon Swansea Bay is the first of an expected network of projects and construction, and manufacturing employment connected with this first build could possibly be used in future lagoon builds in Wales and elsewhere."
Supply chain hub
Mark Shorrock, chief executive of Tidal Lagoon Swansea Bay, said the project wants to work with the Welsh industry to ensure the region capitalises on the development.
He wants to see the Swansea region become the supply chain hub for all tidal lagoons and are looking into a large scale assembly facility in the Swansea city region.
"We are confident from our work so far with representatives of Welsh industry that Wales has the skills base, experience and scalability to serve a larger UK tidal lagoon industry," he added.
The planned lagoon, which would take about two years to build, would comprise an impounding "breakwater or seawall" capable of holding 11 square kms (4 sq miles) of water.
It would hold on to water and then let it out through turbines at both high and low tides which would generate electricity.
At low tide, water would flow from the lagoon into the sea, and from the sea into the lagoon at high tide.
But its size - over 100 megawatts - means its future will be decided by the UK government.