Health boards gain more time to balance their budgets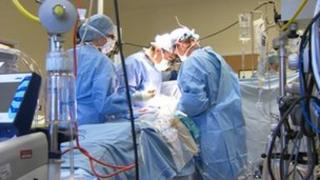 A plan to allow health boards three years, rather than one, to balance their budgets has been approved by AMs.
Welsh ministers want to avoid local health boards (LHBs) being forced into making short term spending decisions.
Despite extra funding, LHBs have struggled to balance their books at the end of each financial year.
Hospital consultants have said A&E departments approach meltdown towards the end of the financial year, partly because of efforts to hit targets.
The Welsh government believes the bill will give health boards a more realistic timetable for implementing bigger projects.
Health Minister Mark Drakeford has stressed financial flexibility under the National Health Service Finance Bill will be "anything but open-ended".
He told AMs on Tuesday that LHBs would be able to plan better and make better decisions.
The minister characterised the change as a "move away from the short-termism encouraged by the current system" which would "ensure budgets are used to best effect".
A Conservative amendment, which would have given health boards powers to borrow money, was defeated.
Mr Drakeford told AMs the legislation before them was going through the assembly using "fast-track" procedures, and there was simply not enough time to properly consider the merits of allowing borrowing by LHBs.
The new law is expected to apply from next April.