Children should be taught about domestic abuse says Llamau charity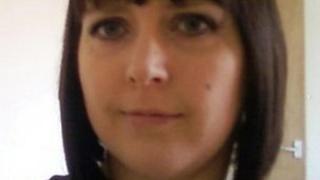 Children should be taught about domestic abuse from a young age to cut the numbers of victims every year, a charity has said.
Llamau wants the Welsh government, councils and charities to work better together to tackle abuse and says educating young children about what domestic violence is is a key factor.
The charity said 70,000 people suffer domestic abuse in Wales every year.
A conference on the issue is taking place on Monday.
It coincides with the launch of the Welsh government's Christmas and New Year domestic abuse campaign and also follows the announcement that Clare's Law, which allows people to check whether new partners have a criminal record for domestic abuse, is being expanded to cover all of Wales and England.
'Huge challenge'
Frances Beecher, chief executive of Llamau, a charity working with vulnerable young people and women, said they were looking at being able to talk about the domestic abuse "to very young people, right the way through primary school, up until comprehensive school".
She said the issue should be discussed "in a gentle, sensitive way".
Ms Beecher added: "Domestic abuse is a huge challenge.
"There are potentially over 70,000 people across Wales affected by domestic abuse.
"This is a huge challenge for everyone to come together, but also to critically analyse our own services - whether that's police, whether that's third sector providers, whether that's education or social services - looking at how we can better provide for people and families."
The proposal was welcomed by Sarah Crown, editor of parenting website Mumsnet, who said the issue had been debated on the website.
"They've discussed it at some length and there's a broad agreement that anything to raise awareness of this kind of thing has got to be beneficial," she said.
"There was some anxiety around the fact it would have to be talked about very sensitively, there should be an agreement on the language used and that would have to be looked at very carefully."
One victim, Natalie - not her real name - was abused by her former partner.
She told BBC Radio Wales: "It's imperative that the word of abuse, mental and physical, should be known all over the country just to make everyone aware of what's happening.
History of violence
"To speak about it more is important... regardless of age."
She added: "For a young man or a young girl to just try and control somebody else is not acceptable."
A Torfaen council spokesman said the conference was a "call to action" from Welsh government, councils and charities to deal with domestic abuse with a coordinated response.
Ann Beynon, commissioner for Wales, Equality and Human Rights Commission, said: "This conference will bring together service providers from across Wales with the aim of finding innovative partnership approaches to tackling domestic abuse in all its forms."
The conference follows news that Clare's Law is being extended.
The scheme is named after Clare Wood, who was murdered by her ex-boyfriend George Appleton at her home in Salford, Greater Manchester, in February 2009.
She was unaware of his history of violence against women.
It has been piloted in Greater Manchester, Wiltshire, Nottinghamshire and Gwent police forces since September 2012.
Last year, the Welsh government launched its White Paper about ending violence against women, and could become law.