Sheep help to combat C. diff super bug says biotech company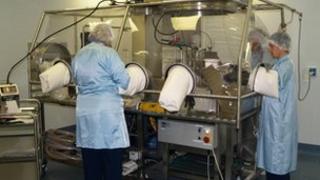 Sheep could hold the key to an effective treatment against a drug-resistant super bug, says a Welsh biotech company.
MicroPharm Limited is looking to extract antibodies from the animal to fight Clostridium difficile (C. Diff) infections in humans.
If successful, clinical trials are starting in 2015.
Last year 1,646 people in Wales and England contracted the digestive tract infection and 10% died.
MicroPharm, based in Newcastle Emlyn, Carmarthenshire, carried out the research with the help of an £800,000 grant from the UK's innovation agency, the Technology Strategy Board.
It was part of a £2m grant awarded to Public Health England based at Porton Down and the University of Leeds.
"In some respects what we're doing isn't that revolutionary; it already occurs every day in nature," said Dr Geoff Shellswell, the company's chief operating officer.
"Most sheep and around 5% of humans live with C. Diff in their gut and never know a thing about it.
"But the most common time to contract a bout of C. Diff, which will cause serious problems, is when you're receiving broad spectrum antibiotics.
"The drugs will knock out most other bacteria - including those which help protect against C. Diff - but because C. Diff has developed drug-resistant strains, it is left behind and can run rampant with no competition."
MicroPharm has already used its expertise with antibodies to produce anti-venoms for dangerous snakes, such as the carpet viper found in Nigeria.
The sheep are immunised with a very small amount of the toxins the C. Diff bacteria produces.
As they respond with an immune reaction, the antibodies created can be harvested from their blood.
"It's just the same as taking blood for tests and causes the sheep no harm whatsoever," said Dr Shellswell.
"In fact these will probably be the most pampered sheep in the world as we need them in absolutely A1 condition.
"The tricky bit is then removing the unwanted parts of the blood, isolating the antibodies, and concentrating them in sufficient quantities to fight a C. Diff infection in a human.
"We have shown that the antibodies are active against the bacterial toxins in laboratory tests."
If the current research proves successful then it is hoped that the treatment could move to a phase two clinical trial with humans in the next two years.
If everything then goes to plan the product could be on sale within the next five to 10 years.