Wales rugby result costs Steve Richards £30,000 on a bet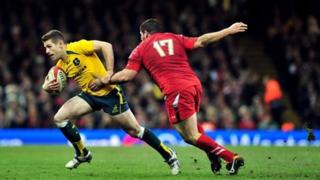 Wales' rugby defeat against Australia cost gambler Steve Richards £30,000 but he still banked almost £9,000 from a £10 accumulator bet.
Mr Richards, 56, of Rhondda Cynon Taf, was set to scoop around £40,000 had Wales won Saturday's clash.
The Tonyrefail roofer had predicted the results of 12 football matches before his final bet on the game in Cardiff.
"To be honest I don't see that £30,000 as mine anyway as I won it, so I haven't really lost anything," he said.
"It was a bit of bad luck losing the bet but I'm still almost £9,000 better off than I was when I started," the veteran gambler told Media Wales.
"I've come so close to winning big money on a number of occasions and one time I almost won £238,000."
He said he listened to the first half of the game on his car radio as he returned from watching Cardiff City lose 3-0 to Arsenal.
He went on to watch the second half of the rugby match on TV in a pub.
He added: "I don't need to win the money though to improve my life as I'm very happy, and even if we did get a lot of money it would just be sat in the bank until we decided what to do with it.
"If I couldn't afford to put that money on the bet I wouldn't have done it."
Wales lost the match at the Millennium Stadium 30-26.