'Slavery' case death probe woman 'loved life', friend says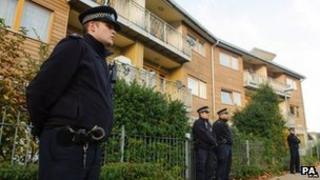 A close friend of Sian Davies - the Ceredigion woman whose death in 1997 is being reinvestigated by police - says she had "so much going for her".
Ms Davies died in hospital, seven months after falling from the bathroom window of a London house where a political "collective" was living.
Police have interviewed three women, aged 69, 57 and 30, allegedly held as slaves for 30 years.
Annabel Aynsley, from Lampeter, said Ms Davies "loved life".
In 1997, a documentary was made about the death of Ms Davies. A leading figure in the collective - who was captured in the footage - was recently arrested and bailed along with his wife in connection with slavery allegations.
Ms Aynsley told BBC Wales she had no idea why the woman she was at school with from eight to 18 became involved with a Maoist group in London.
She said: "I think it's quite extraordinary. At some point I did know she had joined some Maoist cult, because she disappeared basically from life around here.
"We didn't know what happened to her.
"I wouldn't have expected her to have done something like that, given that she had so much going for her.
"She was also very fashionable as well. She loved her Yves Saint Lauren jackets. It was quite extraordinary that she took this sort of course."
The two women both spent three years at preparatory school in Malvern between the ages of eight and 11, and they then went to The Cheltenham Ladies' College together between the ages of 11 and 18.
They were in different houses at Cheltenham but were very close, said Ms Aynsley.
She said: "She was a lovely girl. She was highly intelligent, very attractive. She loved horses, as we both did. She just loved life, basically."
'Virtually disappeared'
Ms Davies, from Tregaron, went to Aberystwyth University and Ms Aynsley went to work in London - and the pair lost touch over the years.
"We lost contact until 1977 when I got married in October and she sent a postcard from the Great Wall of China," she said.
The first Ms Aynsley knew of her friend's death in 1997 was the television documentary.
"Having seen that programme, I have never quite believed it. I think the strangest thing is that Sian virtually disappeared through all those years," she said.
"I didn't realise she had been in hospital for seven months after the fall from the window because I don't think anyone was aware of that."
'Hour of weakness'
Ms Davies was buried in Tregaron where her late father was a family doctor.
Dai Lloyd Evans, a former councillor, said he knew the family well. He has said he believes "the sudden and unexpected death of her father left a deep mark on Sian".
"She probably, in her hour of weakness, turned to somebody for some support," he said.
"We need to have the answer to what happened."
The three alleged victims, a 30-year-old Briton, a 57-year-old Irish woman and a 69-year-old Malaysian, are now in the care of a non-governmental organisation.