Talacre Beach drowning: £20,000 fine over girl pool death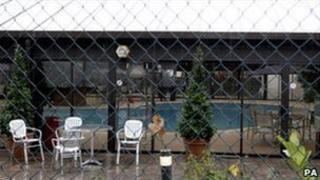 A holiday company has been fined £20,000 for safety breaches after the drowning of a seven-year-old girl.
Seojin Kim, from Birmingham, got into difficulty at Talacre Beach Caravan Sales Ltd's park in Flintshire in October 2010.
But Mold Crown Court heard there was "no causal link" proven between the gradient of the pool and the drowning.
Plas Coch Holiday Homes, the site's former operators, were also ordered to pay £32,500 costs.
In August 2012, it admitted to a health and safety charge and failing to carry out a risk assessment over operation of the pool.
Seojin, from Harborne in Birmingham, got into difficulties in a swimming pool while on holiday at Talacre Beach Caravan and Leisure Park in October 2010.
The court heard the pool at the holiday park had a gradient several times steeper than that recommended.
The pool had a gradient of one-in-three instead of the recommended one-in-15.
The former operators faced sentencing after admitting two safety breaches.
The court heard Seojin was in a baby pool with her father and others. Her father left to go to the toilet.
Christopher Moss, prosecuting, told the court there was a small baby pool 0.5m (1ft 8in) deep and a larger pool ranging from 1.2m (3ft 11in) to 1.8m (5ft 11in), divided by steps.
Seojin walked down the steps from the baby pool which gave access into the adjoining adult pool, the court heard.
Mr Moss said: "It is apparent she quickly got into difficulties.
"A member of the public, Lee McCoy, then saw a dark-skinned child in a red and white costume, Seojin Kim, on the bottom of the pool."
Mr Moss also told the court the gradient was much steeper than the published guidance advises.
He said: "A maximum gradient of one-in-15 is recommended and the gradient was in fact one-in-three."
The court heard the pool was built before the guidelines were brought in and the defendant - the former operators of the park, Talacre Beach Caravan Sales Ltd, now known as Plas Coch Holiday Homes - had co-operated fully and were swift to implement changes.
Seojin, who was just weeks away from her eighth birthday, was pronounced dead at Glan Clwyd Hospital, Bodelwyddan.
Judge Niclas Parry said what had happened was "every parent's worst nightmare".
'Human life'
He said: "It need perhaps not be stated that no one wishes more than her father that the clock could be turned back.
"It is sad to have to record that on this occasion adequate adult supervision over her movements during those fateful few minutes was not provided."
He said he noted the holiday company had a "pro-active culture" to health and safety issues and had a previously "unblemished health and safety record".
He added: "No penalty can nor is intended to reflect the value of that tragic loss of human life.
"Rather it is intended to be punitive, to reflect the extent to which the defendant fell below the required standard."
'Tragic chapter'
A total of £50,000 had since been spent on redesigning the pool which made the floor completely flat, the court was told.
Flintshire council, which brought the prosecution, said: "This has been a long and complex investigation and our sympathy lies with the family of Seojin Kim who tragically lost her life whilst holidaying in Flintshire.
"The family is thanked for its forbearance and it is hoped that this outcome will enable them to close this tragic chapter and feel justice has been carried out."
Talacre Beach Caravan Park is now under new ownership and the current company has no involvement with this case.