Elite swimming at Wales National Pool to end after cuts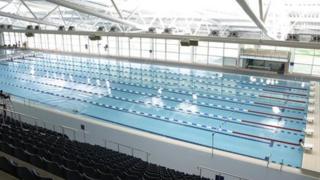 Wales will lose its elite centre status for Olympic and Paralympic swimmers at the end of the year, British Swimming has confirmed.
Swimming suffered a £4m funding cut from UK Sport following their London 2012 disappointment.
It means the intensive training centre in Swansea will no longer be funded.
Stirling in Scotland is also losing its centre, while Stockport has already closed, leaving Loughborough and Bath the only two centres left.
The news is a blow for the Wales National Pool in Swansea which had already lost elite Paralympic swimmers to Manchester as a result of the London 2012 fall-out.
But the pool will receive other funding up until 2017 to help produce medallists for the Rio 2016 and Tokyo 2020 Olympic Games.
"We're pleased to have reached an agreement with Scottish Swimming and Swim Wales on investment within the home nations," said British Swimming National performance director Chris Spice.
"We will be investing in Scotland and Wales' elite swimming infrastructure and the funding will be targeted towards athletes that have a realistic chance of winning medals on the international stage up to Tokyo 2020 and beyond.
'Stars of the future'
"In addition we will also be investing in the performance pathway of the sport to help produce athletes of the future.
"We're investing in the future of swimming in Scotland and Wales, and therefore the future of British Swimming."
The Wales National Pool is currently the base for Olympians Georgia Davies and Jemma Lowe as well as World and Commonwealth medallist Jazz Carlin.
Preparations for the 2014 Commonwealth Games in Glasgow will not be affected by the decision.
Robert James, chief executive of Swim Wales, said: "Together with Sport Wales, it is envisaged the British swimming investment will support Swim Wales in our long term strategies.
"Our immediate focus continues to be on the 2014 Commonwealth Games where we will be seeking to build upon our medal tally from Delhi.
"This investment will only help to enhance the support we can provide our swimmers and further develop the pathway for identifying the Welsh swimming stars of the future."