Letter led to Michael Batten, 70, being jailed for abuse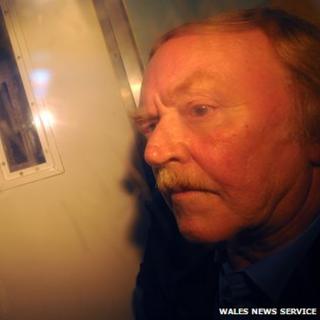 A woman who wrote to a man who abused her as a child called in the police when his reply showed no remorse.
Michael Batten, 70, of Maesteg, near Bridgend, was jailed for 30 months for the sex attacks while babysitting for her family when she was aged eight.
A jury at Cardiff Crown Court convicted him of three charges of indecent assault and one of gross indecency.
After the verdicts, the woman said: "I feel at last I had a chance to tell what happened to me."
During the trial she told the court how she was frightened into silence for years.
She told police: "He robbed me of my childhood and ruined my life."
In her letter delivered by courier to Batten's door, she wrote: "I was a vulnerable, trusting child.
"You broke my spirit and wrecked my confidence.
"I can never get those years back and I have lived my life in a constant state of fear thinking I was worthless."
The court heard the abuse went on for at least two years.
She told a jury: "He took me to the bay window and pointed to a police car which was parked across the road - I could hardly see over the window sill.
Face to face
"He said that was the kind of car that would be coming for me if 'they' ever found out what we were doing.
"He made me complicit. I was guilty too - he said what we were doing was our secret and we would go to prison if they knew.
"I was eight, I was terrified and I believed him."
The jury was told she came face to face with her abuser several times over the years.
She took a year to compose the letter to Batten, hoping for an apology.
The woman sent it to him by courier to make sure he signed for it.
The court heard what she received was a short reply which "expressed no remorse".
The court heard Batten apologised for "any harm you think I have done to you" and wished her well for the future.
He then destroyed it because he said he did not "want to upset his wife".
Police investigated and arrested Batten after reading a copy of the letter and his reply.
The court heard the charges were a sample, each representing a "course of abuse" by the retired railway worker.
Batten was jailed for 30 months after the court heard he was in severe ill health.
He was put on the sex offenders' register for life.