Ian Watkins abuse case: E! Online sorry for using Steps photo in story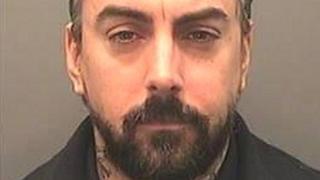 An American website said it "deeply regrets" mistakenly using a picture of Steps singer Ian "H" Watkins and not the disgraced Lostprophets' front man when reporting a child abuse case.
Paedophile Ian Watkins, lead singer of the now-disbanded rock group, admitted a string of child sex abuse charges at Cardiff Crown Court on Tuesday.
E! Online published the story but used a photo of the Steps singer instead.
It also tweeted the story to its six million followers.
In a statement, an E! Online spokeswoman said: "E! Online deeply regrets originally publishing an image of Ian 'H' Watkins of the band Steps, rather than Ian Watkins of Lostprophets, and the error was corrected immediately.
'Apologise directly'
"We are investigating the matter and will take appropriate action. Additionally, E! Online has reached out to Ian 'H' Watkins, via his management, to apologise directly."
However, Ian "H" Watkins, from Cwmparc, Rhondda, also took to Twitter hours after the story was published and told his 68,000 followers he had not received an apology.
"Thank you to everyone who has supported me today..." he told his fans.
"My management took swift action to remove my image which was posted due to shoddy journalism. No apology as yet from @eonline !!"
Last week, in advance of the trial of his namesake, the Steps singer announced he would take a "break" from Twitter, adding: "Not sure when I'll be back".
Lostprophets frontman Watkins, 36, of Pontypridd, admitted a series of child sex offences including attempted rape of a baby.
He and two women who also admitted a range of charges will be sentenced on 18 December.