Lostprophets' Ian Watkins: Descent from 'good guy' to depravity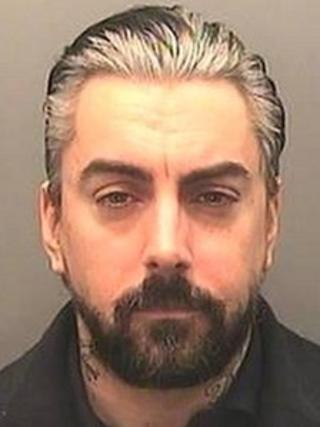 Paedophile and Lostprophets singer Ian Watkins separated himself from the rest of his band in an attempt to hide his depravity, it has been claimed.
Music journalist Gavin Allen said Watkins stayed in separate hotels and travelled in different cars to the rest of the group while on tour.
Watkins, 36, of Pontypridd, admitted a series of child sex offences including attempted rape of a baby.
Mr Allen said he changed from a "good guy" to "detached" around 2007.
He told BBC News Online: "By the end of the touring schedule he was staying in separate hotels and travelling in separate cars to the rest of the band.
"In hindsight it looks like he was hiding his behaviour from the rest of the band."
In September 2012, fans of the popular rock band were shocked as it emerged that Watkins had been arrested following a drugs raid on his terrace house in Pontypridd. Weeks later, it emerged, they had found child sex abuse images and videos on his computer hard drive.
It was then that the extent of his depravity began to emerge.
He "furiously denied" any wrongdoing and maintained not guilty pleas as he arrived at Cardiff Crown Court to stand trial this week alongside two women, whose babies he abused.
Then in a dramatic change at the 11th hour, he changed his pleas to guilty to all but one of the 24 charges he faced. He is due to be sentenced next month.
As police continue the investigation into the possibility of other victims, Ian Watkins has become a vilified figure around the world.
His current image is far cry from the apparently clean-living front man Mr Allen first watched perform back in 2000 in his capacity as music journalist with the South Wales Echo.
"Then, they were still a hard core band, a straight-edge band which is a phrase used for a band not using drugs or drink," he said.
Mr Allen subsequently interviewed Watkins and the rest of the band when their second album, Start Something, was released in 2003.
He said it was clear the band had a very strong bond and seemed to be firm friends.
"Watkins was someone with a very good sense of humour, very personable," he recalled.
"He struck me as a good guy and someone I could get on with.
"There was nothing suspicious, nothing at all that would make me suspect there was anything lurking in the background.
"I think he had a dark sense of humour, certainly, but so do lots of people."
Mr Allen continued to interview the band through its rise to stardom but in 2007, when he interviewed them for the final time, there was a marked shift in Watkins' behaviour.
He was not the unaffected rock singer Mr Allen had met years previously.
"There had definitely been a separation within the band," he said.
"When I interviewed the group they turned up early without Watkins and we started the interview without him.
Startling change
"He only arrived about halfway through the interview and there was definite tension there.
"It struck me then there was a difference."
He said they used to be a group of friends but in 2007 Watkins had been "detached".
"When I saw his mug shots the change in him is startling," Mr Allen said.
"He's gone from having manicured hair to the image of him of what he's become, a sex offender.
"I know the band to say hi to and I'm still in touch with some of them. We have mutual friends. They are a good bunch of lads. If they had any suspicions they would have sounded the alarm about it."
Mr Allen said he was deeply shocked when he heard the details of the charges Watkins faced.
"I thought there must be a mistake," he said.
"I thought it was one of Ian's dark jokes gone too far.
"The more you see, the more sickening it becomes. It's hard not to react on an emotional level to this. It's so shocking. It's horrifying."