Lostprophets' Ian Watkins case: Ex-Ceop head warns others may slip through net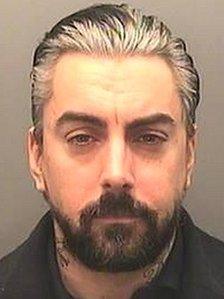 Child sex abuse cases like Lostprophets singer Ian Watkins will slip through the net due to a lack of resources, a child protection expert has warned.
Jim Gamble, ex-head of the Child Exploitation and Online Protection centre (Ceop), wants more money invested in regional child protection teams to catch online abusers.
Watkins admitted the attempted rape of a baby on Tuesday.
The UK Government said spending on tackling abuse was being "ramped up".
Watkins, 36, from Pontypridd, admitted two counts of attempted rape and 12 other offences including sexual assault and taking, making and distributing indecent images of children.
He and two women changed their pleas shortly before their trial was due to start at Cardiff Crown Court.
Mr Gamble, a former senior police officer, warned against focusing on technology in online abuse cases, saying the problem was always people.
He believes there will be fewer arrests and prosecutions for online child abuse as a result of government policy.
Talking about the focus on blocking images from being seen, he told BBC Wales: "The work done by Google and Bing has done very little at all."
He resigned from Ceop in 2010 in protest at the decision to amalgamate the centre into the National Crime Agency, which he said meant there was not investment in it.
"Too few people in the policing world understand the nature of the people involved in child abuse," he said.
"We need to see more police officers engaging with the people."
He said even at Ceop he would be "shocked if there were more than two or three people" working online to search out people like Watkins.
"There will be child protection teams in all police forces but they will be small and they won't have national support."
He said there was a division between online and offline child abuse crime, which he said needed to be "joined up".
Mr Gamble also wants to see child abuse cases and online indecent image cases dealt with in the same way because a child was being abused in order to make the images.
He said "hardcore paedophiles" would "look at the Ian Watkins case and laugh", adding they would not stop unless the chance of arrest was significantly increased.
He said once the case had been analysed and the Independent Police Complaints Commission (IPCC) investigation was over he believed many in the protection community would identify "opportunities missed" to intervene at an earlier stage.
Crime Prevention Minister Norman Baker said tackling child sexual exploitation was a "top priority" for the UK Government.
"Far from cutting expenditure in this area we've been ramping it up," he added.
"The Home Office has allocated the National Crime Agency (NCA) more than £420m for its first year -the same amount previously allocated to the separate bodies within it.
"In fact, as part of the NCA, the Child Exploitation Online Protection Command has more resources and specialist skills to draw on, not less.
"The NCA also has international reach which will significantly strengthen the UK's capability to combat online child abuse."
Meanwhile, the IPCC is investigating whether South Wales Police acted in a "timely manner" in the Watkins' case after the force referred itself to the commission in January.
Watkins committed some of the child sex offences he later admitted to while he was on bail after being initially arrested in September before being re-arrested and charged in December 2012.
One of the crimes he pleaded guilty to was conspiring to rape a child on 31 October.
The force said the delay between Watkins' first and subsequent arrests was one of the things the IPCC would be investigating.
South Wales Police had received information about Watkins from four other forcesin the period before he was arrested, and this will form part of the IPCC's examination.
It is also investigating a detective sergeant from south Wales over alleged inaction regarding reports made to the police.
Chief Superintendent Tim Jones, head of South Wales Police's professional standards department, said: "South Wales Police will fully support the Independent Police Complaints Commission's independent investigation and are committed to responding promptly to its findings.
"In view of the ongoing proceedings it is inappropriate to comment further at this time."
Entertainment news website E! Online has apologised after wrongly using a picture of former Steps singer Ian H Watkins to illustrate its article about Lostprophets' front man Ian Watkins.
The website made a correction and said it "regrets this error."