Low pay 'traps' 80,000 in Wales, 10-year study says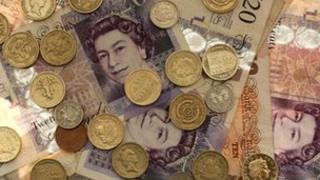 Wales is one of the worst regions of the UK for people stuck on low pay, according to a 10-year study.
It says 80,000 people - just under a third of those working in low paid jobs - have been in that situation for a decade.
A report by the Resolution Foundation charity said North East England was the worst affected with Wales joint second with two other English regions.
It found women were also much more likely to be stuck on low pay than men.
The charity said 31% of people working in low paid jobs in Wales have been unable to move up the career ladder compared with 27% in the UK.
It put the nation in second worst place with the East Midlands, and Yorkshire and Humber, with North East England worst at 34%.
Report author and analyst Alex Hurrell said: "For many people, low pay is not a first rung on the ladder - it's a long-term or even permanent reality."
Low pay is defined as a rate below two-thirds of the median, or middle, wage which is £10.71 an hour.
Therefore, someone low paid earns £7.14 an hour or less, accounting for 20% of the UK workforce, according to the study.