Education in Wales: Is it making the grade?
By Arwyn Jones
BBC Wales education correspondent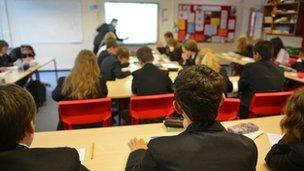 Wales has a proud history of education.
The idea of a "Gwerin", an educated working class who saw learning as a way out of poverty as well as self-improvement, has always played a large part in the national consciousness.
The advent of the assembly in 1999 meant Wales could go its own way and create its own distinctive education system, rather than being an extension of the system in England.
And that is exactly what successive education ministers decided to do.
League tables in secondary schools were abolished in Wales early in the 2000s and the SATs tests for 11-year-olds were scrapped soon after.
And when the UK government decided to introduce a new literacy and numeracy framework for teaching 11-14 year olds in England, Wales decided it was not for them.
Perhaps the most tangible difference is in the early years.
The three to seven-year-olds in Wales go through what is called the Foundation Phase.
Borrowed from Scandinavian countries, the idea is that children learn through playing; that if you instil a love of education early on during their time in schools, it will stay with them for life; that if you give them a new way of developing their thinking, it is the best foundation as they grow older.
The policy was only introduced on a statutory basis in 2008, so it is still early days, but the initial evaluation work carried out by Cardiff University was not the resounding pat-on-the-back many were hoping for.
A "mixed picture" is how researchers put it.
This flagship policy, hailed by former First Minister Rhodri Morgan as his finest achievement, was being "diluted" by "contradictory" policies coming from the Welsh government, according to the report.
Another concrete difference in the education system in Wales is the Welsh Baccalaureate, rolled out in 2007.
It is aimed at giving teenagers a broader post-16 education than more specialist A-level subjects.
As well as a core of subjects, such as maths and languages, students also get a chance to do work experience and voluntary placements.
But here again, the early signs are not hugely heartening.
Many pupils say it is not challenging enough and therefore a waste of time.
Recent research suggested university students who studied the Welsh Baccalaureate were less likely to get higher degrees than those who did not.
Having said that, the report also said those who studied the bacc were more likely to get into a leading Russell Group university.
So again, it is early days.
The Welsh government will change the bacc from 2015, making it more challenging, as well as grading the results.
The funding of schools is another noticeable factor of education since devolution.
Or, to put it bluntly, how much is spent on schools in Wales compared with England?
According to some reports, in 1999-2000 spend per pupil was £58 higher in England than in Wales; by 2009-10 the gap had grown to £604.
During his campaign to become leader of the Labour Party in Wales in 2009 (when the gap was around £496 per pupil), First Minister Carwyn Jones promised to increase spending on schools by an extra 1% a year until it matched the amount spent per pupil in England.
But in a briefing with Welsh government statisticians earlier this year, disappointed education journalists like me were told we could no longer compare spending between the two countries; academies, free schools and a different funding arrangement on the other side of Offa's Dyke, we were told, meant it was too complicated.
I'm not too sure where this leaves Mr Jones's pledge.
Teachers say the so-called "under-funding" of schools in Wales means they just cannot compete with a near-neighbour which spends so much more than we do.
Many educational experts, however, will tell you it is not how much you spend, it is how you spend it that counts.
And one way the Welsh government has decided to spend more money is to tackle that stubborn link between poverty and low education attainment.
But again, it is not just how much money you throw at a problem which solves it.
The current Education Minister Huw Lewis is looking at changing how we rate the performance of our schools.
In future, it seems likely that how a school improves the lot of our poorest children will count towards where it is placed in the banding system.
The potential benefit of such a move is twofold; not only could it mean that education once again is seen as a ladder out of poverty, but it could also raise overall standards in our schools.
That would surely be the highlight of the story of devolved education in Wales.
Related Internet Links
The BBC is not responsible for the content of external sites.