Help to Buy: £170m scheme to help new house buyers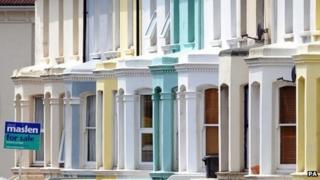 Details of a £170m scheme to boost the housing market have been released by the Welsh government.
From January, buyers of new build homes under £300,000 will able to apply for a loan to help with the cost.
Help to Buy Wales mirrors a similar scheme that has been operating in England since April.
But there are concerns that it could lead to inflated house prices and another unsustainable bubble in the housing market.
Buyers with a 5% deposit will receive an initial interest-free loan of up to 20% of the property value from the Welsh government.
The aim is to boost demand for new build properties and kick-start more housing construction projects.
It means buyers can access mortgages from some banks with a lower deposit than before.
Housing Minister Carl Sargeant said: "There's no doubt that the recession and a tightening of mortgage lending have made getting onto the property ladder much tougher in recent years.
"Buyers without a large deposit are increasingly finding that home ownership is not an option.
"The Help to Buy Wales scheme beginning in the new year will help more people get onto the property ladder and will provide a much needed boost to the building industry in Wales.
"The investment will support the purchase of around 5,000 new homes in Wales during the next two and a half years."
The Chartered Institute of Housing Cymru gave the announcement a cautious welcome.
"Anything that can increase the supply of homes is welcomed," said its director in Wales Keith Edwards.
"We need to closely monitor the impact of this measure. It's essentially a demand-side intervention in the housing economy.
"We need to make sure we increase supply of new homes or we risk inflation in the market and a return to house price bubbles."
But Glyn Mabey, regional chairman for Wales at Persimmon Homes, said the company was "extremely pleased" with the scheme.
'House hunters'
"Similar schemes have been in operation with our English companies for several years now and have been highly successful in stimulating the market to generate a lot more new homes and a lot more jobs to go with it," he said.
Help to Buy was launched in England in April and was later launched in Scotland.
Some 5,375 new homes were bought in the first six months of the scheme in England.
Of these, 92% were sold to first-time buyers, the Department for Communities and Local Government said last week.
Redrow Homes South Wales welcomed Mr Sargeant to its Mon Bank development in Newport where he announced the scheme in Wales.
Company managing director Stuart Rowlands said: "We have received numerous inquiries in recent months from house hunters wishing to purchase via the Help to Buy scheme following its success in England.
"They have been disappointed to discover that it was not available to them in Wales."
Welsh Conservative shadow Housing Minister Mark Isherwood welcomed the scheme's launch but said he was disappointed at the time it had taken to introduce it in Wales.