Silent show hopes to inspire new generation of Welsh scientists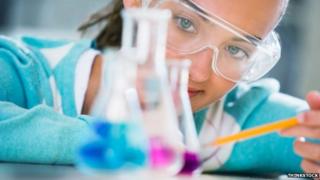 A live science show that stages experiments and demonstrations without the use of words is to go on tour with the aim of inspiring young people to take up science.
The number of people studying science has fallen in recent years, with the creators particularly concerned over the levels of women.
Scientists Wendy Sadler and Haley Gomez's show is due to tour six theatres across Wales next year.
It is aimed at primary school children.
Ms Sadler, from Cardiff University's spinout company Science Made Simple, and Dr Gomez, an astrophysicist at the Cardiff School of Physics and Astronomy, said the numbers of students taking up physical science subjects had been in decline in recent years, particularly among young women.
'Ask more questions'
In Stem subjects - science, technology, engineering and maths - generally women make up just 13% of the workforce in the UK
In engineering women fare even worse, taking up just 8% of the jobs.
"Science without words is a unique family theatre show that uses physical theatre, live science and humour to excite audiences about the science in the world around them," said Dr Gomez.
"The show has no spoken language, but features a number of visually intriguing experiments presented by tech-savvy clowns to a musical soundtrack.
"The aim is to encourage children to ask more questions about the things they have seen and to start conversations with their parents about science."
Ms Sadler said she was thrilled to tour the show in Wales following a sell-out stint at the Edinburgh Fringe Festival.
"With the follow-on activities we provide after the show we want to get parents and grandparents actively involved in recreating elements of the show in the kitchen when they get back home," she said.
"Research suggests that it is vitally important that parents are positive about science to help encourage children to choose it as a subject to study later in life.
"We believe that capturing this enthusiasm earlier in life is essential to build a supply of future scientists and engineers for Wales."
As well as the theatre shows, Dr Gomez is leading a project called "The universe in your classroom", which will see astronomers visiting schools across Wales.