Down's syndrome pregnancy test available privately in Wales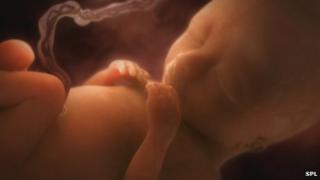 A non-invasive early blood test for Down's syndrome is being made available in Wales for the first time.
It is hoped the test could prevent pregnant women from undergoing a potentially unnecessary invasive procedure which risks a miscarriage.
At the moment the test is only available privately and is not on the NHS.
But a support group for families with children who have the condition said it did not see it as progress.
In the UK, 750 babies are born with Down's syndrome each year and pregnant women are offered screening for it.
The invasive test involves using a needle to take a sample of either placental cells or of the fluid that bathes the baby but this procedure carries a one-in-100 chance of miscarriage.
Other conditions
Dr Bryan Beattie, a consultant in foetal medicine at the University of Wales Hospital, Cardiff, and director of Innermost Healthcare at the Ashtree medical clinic in Cardiff, which is providing the new test, said it could look for other conditions affecting the baby.
"The best test for conditions like Down's syndrome is the amniocentesis," he said.
"They will take a small amount of amniotic fluid from the pregnancy sack but it does carry risk of miscarriage.
"What they've now been able to do is take a blood sample and separate off the baby's DNA in the mother's blood and test it directly so it's reaching accuracy of about 99%, nearly as good as an amniocentesis but without the risk.
"I don't think it's going to get much better than 99%.
"There will always be a very small margin for error and in something like one in 1,000 women there will still be the need for a amniocentesis, but it does mean a lot less people will be having invasive testing and much more accurate results.
"The interesting thing about the new technology is that you can now start to look for other things as well, so it's highly likely that conditions like cystic fibrosis and so on will soon be able to be picked up in the same way."
But Katarina Barker, chairman of the 21 Plus, a support group for families with children who have Down's syndrome, said she did not see the test as progress.
Her 10-year-old daughter has Down's syndrome.
"My immediate feeling is that these type of tests are loaded as a great tool but the typical outcome is that expectant mothers opt for abortion," she said.
"My strong personal feeling is that we should not eradicate Down's syndrome; we should better educate people because they don't understand the condition."