South east Wales city region 'not progressing quickly enough'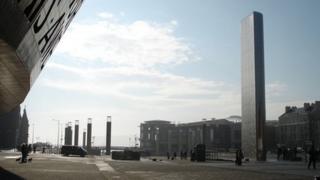 Businesses are frustrated that a planned city region in south east Wales is not progressing quickly enough, says a new report.
The South East Wales Economic Forum surveyed 200 companies and found they mostly backed the city region plans, aimed at boosting jobs and investment.
Firms are worried about the effects of prolonged economic austerity and see the region as offering opportunities.
Earlier this week, the first chairman and board were appointed to the region.
It spreads 10 local authority areas and the board, headed by Welsh Rugby Union chief executive Roger Lewis, includes four council leaders and representatives from business and higher education.
Another city region is being set up for Swansea Bay and was launched as Wales' first in July.
It includes Pembrokeshire, Carmarthenshire, Neath Port Talbot and part of Powys and is chaired by Swansea council leader David Phillips.
The message from the South East Wales Economic Forum report is that businesses in south east Wales broadly back the idea but they are clearly concerned that progress is slow and frustrated that proposals are not more visionary.
Businesses list what they see as priorities to help make the city region succeed, possible constraints and opportunities:
The report says transport in general is a priority, with a proposed Metro linking the Valleys to cities as the most important investment and described by businesses as the "flagship" or "backbone " of the city region.
Improving the M4 is seen as important but less so, with some firms such as food manufacturers seeing it as affecting their daily business while others in the financial sector looked east and saw the M4 as vital to connecting with the south east of England and Heathrow.
Investment in Cardiff Airport is also called for so that there can be more flights and to a wider range of destinations.
Throughout the report there's discussion about threats to energy supply and security, which it warns could have an impact on south east Wales in the next 10 years .
It recommends that there should be more emphasis on exploiting natural energy and that south east Wales should be developed as a manufacturing centre of excellence for green energy and green technology.
The report also suggests shaking up the energy sector across Wales with a Wales-wide energy company set up to control and manage energy generation.
'Encouraged'
There's also concern that poor levels of literacy and numeracy and what's described as the ability to learn and adapt to a fast changing world of work.
There are calls for more entrepreneurial appetite, better digital connectivity and a recognition of the importance of working closely with Welsh universities.
What is clear is the sense of impatience among the business community.
It wants to see a bold and integrated strategy, a 10-year investment plan in people, transport and places alongside a 10-year education plan.
Announcing the City Regions boards earlier this week, Economy Minister Edwina Hart said it was a "long journey" but she was "encouraged with the progress that has been made over the last few months."
"In both City Regions, collaboration to meet shared aspirations for jobs and growth has entered a new and exciting phase," she said.
"Establishing the City Region boards is the next step in that journey and provides the vehicle to build on the momentum and consensus which has been achieved."