Fairwater High teacher Rachel Speed jailed over sex with pupil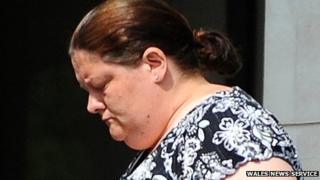 A teacher has been jailed for two years after a secret four-year relationship with a 14-year-old female pupil.
Rachel Speed, 41, of Hengoed, Caerphilly County, denied indecent assault and sexual activity while in a position of trust but was found guilty.
Speed started a relationship after kissing the girl in a stationery cupboard at Fairwater High School in Cwmbran.
The relationship ended when the girl went to university.
The court heard the girl had "sleepovers" at Speed's house several times a week.
Christopher Rees, prosecuting, said: "You abused her trust while she was 14.
"You did not want her parents to know because then they would know your sordid little secret.
"You were clearly obsessed with her - even when she went to university."
Judge David Wynn Morgan had already warned Speed she would be jailed.
In sentencing her, the judge said: "You were in a position of trust in relation to the girl, you were her teacher.
"Teachers are not allowed to have sex with their pupils. Everybody knows that.
"You were a mature person while she was an impressionable and vulnerable child who was unpopular at school.
"She was bound to respond to the attentions of a popular teacher."
The court was told the girl was bullied at school and Speed started texting her and sending online messages before inviting her for a sleepover.
She would pick her up from the bus stop and drive her to her home.
'Sick and angry'
When the girl's parents found out they made Speed sign a contract in exchange for not going to the school or the police.
Speed agreed she would end the relationship until she was 21 or after she finished full time education but she broke her promise.
The girl's mother told the court: "I felt sick and angry. My daughter was a child. How could she have her sleep over at her house?"
Speed gave the girl an engagement ring and a car when she went to university.
But the pupil broke off the relationship by text after she met someone new.
The girl then reported Speed to police.
Peter Harding-Roberts, defending, said: "The situation sprung from an initial act of kindness from the defendant.
"The relationship continued until the girl was 20, it was a genuine loving relationship."
Speed, who has lost her job at the school, was placed on the sexual offences register for 10 years and under a sexual offences prevention order was ordered not to have unsupervised contact with a child under 18.
She was also disqualified from ever applying or obtaining work that brought her into contact with anyone under 18.
A spokesman for Torfaen council said: "We apologise for the failure to protect this pupil during her time at the school."