Doctor Who: Daleks' creator Terry Nation has blue plaque at Cardiff home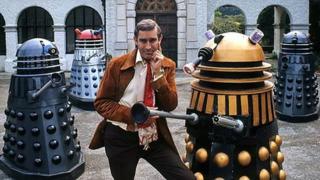 Dalek creator Terry Nation has had a blue plaque unveiled in his honour at the house in Cardiff where he was born.
Nation, who died in 1997 aged 66, was a screenwriter on Doctor Who when he came up with the ideas for the aliens who are almost as famous as the Time Lord himself.
The unveiling took place during the week of the 50th anniversary of the BBC sci-fi series.
The Daleks made their first appearance in December 1963.
Nation was born in the suburb of Llandaff, close to Cardiff's cathedral, and near to the childhood home of fellow writer Roald Dahl.
The plaque was arranged by the Llandaff Society whose chairman Geoffrey Barton-Greenwood once met Nation when the writer, who had by this time moved to Hollywood, was visiting friends in the Cardiff area.
He said: "I knew immediately who he was. I had been watching the Doctor Who series from the very beginning. I didn't at that stage know that he was a Llandaff boy.
"He was obviously a very impressive character. He had stature and gravitas."
Four years ago, the society unveiled a blue plaque just yards away in memory of another local writer, Roald Dahl.
'Play on words'
Mr Barton-Greenwood believes there may be a connection between the name of the famous writer and the name Nation gave to his armoured mutant creations.
He said: "There is a connection in that they are 'Daleks' and Roald 'Dahl' was only from around the corner.
"I think Terry Nation might well have been having a play on words.
"It would be an extreme coincidence that these guys came from such a short distance apart and yet came up with this sort of affinity."
Scriptwriter and novelist Nation was born in a house in Fairwater Grove West in the village suburb of Llandaff.
Mr Barton-Greenwood said: "There are stories of neighbours seeing him, as a boy, sitting on the back step jotting down story ideas in his notebook."
"He put the success of Doctor Who and the Daleks down to 'good old-fashioned stories, lots of danger, with tremendous adversaries. And the Doctor beating big villains'."
The Daleks became iconic villains after appearing in the second storyline of the first series of Doctor Who, which is marking its 50th anniversary with events this year.
In the show, the race of Daleks was said to have been developed by a scientist to survive a war on their home planet of Skaro. However, the scientist was later killed by his own creation.
The Daleks, mutants encased in studded, tank-like machinery that appear to glide over the ground, became a cultural sensation, with generations growing to love their famous synthesised-voice command of "Exterminate".
Nation's first foray into show business was in comedy, writing material for comedians including Tony Hancock.
Hancock's nephew Tim Hancock, the agent for the Terry Nation estate, is due to unveil the blue plaque.