Withybush hospital could end some maternity care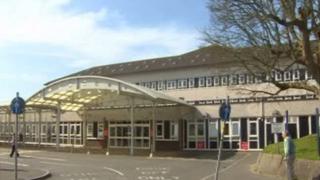 Staff at Withybush Hospital in Pembrokeshire have been told that consultant and doctor-led care at the maternity unit will end next March.
It is also believed that all acute paediatric cases could be transferred from Haverfordwest to Carmarthen.
Nurses and doctors were told of the plan last week, BBC Wales has learned.
Hywel Dda Health Board said the transfer of services was an option but no decision had been made, and talks were taking place with staff.
It is believed that a midwifery-led service will remain at the hospital, but all complex births and any involving complications will have to be transferred to Carmarthen or further afield.
Consultant obstetrician Chris Overton confirmed to BBC Wales that staff had been told of the decision to centralise consultant and doctor-led maternity services at Glangwili Hospital in Carmarthen.
He called on the Health Minister Mark Drakeford to intervene and "end this madness".
Preseli Pembrokeshire Conservative assembly member Paul Davies also called for an urgent statement from Mr Drakeford about the future of "core services" at the hospital.
His request was rejected by the Welsh government which said further detail about services had already been sought from the health board.
It has already been proposed to transfer the special care baby unit from Haverfordwest to Carmarthen, although Mr Drakeford asked in September for further detail about the health board's plans for obstetric and midwifery services.
He asked the health board to complete that work by the end of 2013.
However, the latest development about the future of Withybush hospital goes beyond what was originally proposed by the health board during the recent consultation process.
Health campaigners have also told BBC Wales that the overnight accident and emergency service will end at Withybush, with cases being transferred to Carmarthen.
Hywel Dda Health Board have refused to answer detailed questions about the nature of the announcement last week, however in a statement said its planning processes were based on a number of imperatives.
It said: "Firstly, responding to the minister on the Scrutiny Panel Report on neonatal services in Glangwili and Withybush Hospitals. This required us to clarify the nature and delivery model for obstetric and paediatric services that would be provided to support a Level 2 neo-natal unit in Hywel Dda before final decisions are made in relation to newborn services.
"It is worth emphasising that the panel was clear in its support for the development of a Level 2 Unit in Glangwili Hospital if accompanied by appropriate changes in obstetric services with a collaborative approach to delivering medical cover across the health board. The ongoing work with our clinical teams is based on that position taking account of the many service inter-dependencies.
"Also there are requirements of the deanery to have all paediatric trainee doctors on a single site from March 2014 whilst ensuring our services meet the necessary Royal College standards and are safe and sustainable for the future.
"Finally, there is the implementation of the decisions made by the Board on 15 January 2013 following consultation - this was that the health board would need to retain training status in paediatrics and obstetrics.
"We were clear that whilst we would make every effort to retain acute paediatrics on two sites in the south, should this not be possible we would revert to a single site model in Glangwili.
"We will be submitting our proposed models to Welsh government in the next few weeks but until we are confident that they meet the necessary standards we will be continue the discussions with our clinicians."
The health board said it was committed to "openly discussing the current situation with staff and so meetings were taking place at a hospital, county and health board-wide level".