Little Welsh economic benefit from London 2012, says report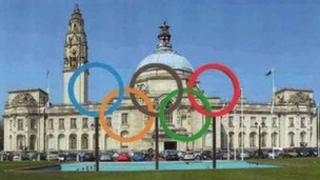 Less than 1% of the £2.5bn the UK government says has been invested by foreign firms after the Olympic and Paralympics has come to Wales, a House of Lords report has found.
The economic benefits from 2012 were "disproportionally weighted" towards southern England, the report said.
Fewer than 500 jobs were created in Wales, out of a total of 30,000.
The Welsh government said it was still considering the report, but pointed to recent praise on its legacy efforts.
Paralympian Tanni Grey-Thompson said sporting levels had risen among Welsh children after London 2012.
The report by the Lords' committee said the regional disparities in spending were a "cause for concern", and called on the UK government to assess the reasons behind it.
It noted: "The scale of difference goes beyond that which might reasonably be expected to occur as a result of the Games taking place in and around London."
The peers want to see any future post-Olympic investments shared across regions outside southern England.
'Cash cow'
However, the sporting legacy in Wales has been more positive, with a variety of organisations reporting an ongoing boost to numbers by up to 40%.
Dr Kath Ringwald, from the University of South Wales, said the figures were not a surprise at all.
"Obviously, those businesses located around the Games' location were most likely to benefit," she told BBC Radio Wales.
"Welsh businesses were most likely to win business that was short-term supplying to the games."
Baroness Grey-Thompson said she had been "realistic" before the Games began about the resulting benefits.
"I never thought it was gong to be a cash cow for everywhere in the country. I did go to some places and they seemed to think they were going to make millions out of it and I don't think that was ever realistic."
She pointed to work done by Sport Wales and other bodies in Wales to help secure a good legacy in terms of participation in sport.
"If you look at the participation figures around school children, they have gone up from 25% to 40% and are still there a year on," she said.
Levels in England have dropped during the same period, she added.
"Sport Wales and others really got how hard they were going to have to work so there was lots of work in schools and in clubs done."
Proximity
The gold-medal winning Paralympian would like to see a wider choice of sports offered at school at an early age and for better training for teachers delivering sports.
"One of the frustrations is people talk about sport being very important but actually what we need is to radically change who we look at participation.
"It's about teaching really good skills at a young age," said the baroness.
Lord Dafydd Wigley, who sat on the committee, said the Games were inspirational but Wales did miss out financially.
He said part of the "problem" was Wales' proximity to London as all athletes must be no more than an hour from the host city.
"With regards to the economics, it's not just a question of the direct business that came out, it's a question of tourism where over 50% of the tourism goes to London itself and they got the main benefits as was expected," he said.
But Lord Wigley added it was also a question of infrastructure.
"Of the £9bn that went on capital spend on the Olympics, over £5bn was for construction work - housing, roads, railways - that would've happened anyway in east London but would've taken 20 years longer to occur," he said.
"We should in Wales have had a full Barnett consequential of that spending, in fact we only got £9m of the £250m we should have expected."
A Welsh government spokesman said: "We have not yet had the opportunity to consider the report in full.
"The Wales Steering Group report sets out the benefits the Olympic Games brought to Wales and Lord Coe recently praised the efforts made in Wales to ensure a sporting and economic legacy, with our successful bid for the World Half Marathon Championship in 2016 being an excellent example."
He added they were also focusing on capitalising on the economic impact of other sporting events such as the Wales Rally GB.
The Lords' report also noted there was no will on the part of the home nations to field a Team GB football side at future Olympics, although it added there may be a "stronger case" for a women's Team GB team.
However, both the Football Association of Wales and its Scottish counterpart suggested they may oppose that as well.