Two die in light aircraft crash at Hawarden Airport, Flintshire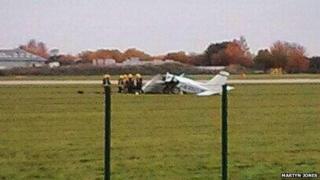 A man and a woman have died after a light aircraft crashed near the runway at Hawarden Airport in Flintshire.
North Wales Police say they were called at 13:07 GMT to the incident involving a twin engine light aircraft.
The man was pronounced dead at the scene and the woman was taken to the Countess of Chester Hospital where she later died. There were no other people on board the aircraft.
The Air Accidents Investigation Branch (AAIB) is investigating.
North Wales Fire and Rescue Service sent three appliances to the scene but said the incident was dealt with by on-site firefighters from the nearby Airbus factory.
"We are working with the AAIB to establish what caused the plane to crash" said a police spokesperson.
"The AAIB will lead the investigation.
"North Wales Police are currently not in a position to identify the man and the woman who died."
The Welsh Ambulance Service said it had sent a rapid response vehicle and emergency ambulance to the scene, along with two emergency response doctors.
The AAIB said it had deployed a team to the airport to begin its investigation.
North Wales Police said the coroner had also been informed.