Welsh Water half-year profits rise to £32m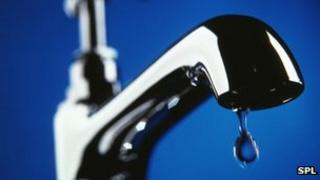 Welsh Water has reported half-year profits of £32m, up from £25m in 2012, latest figures show.
The company also said it will be introducing a below-inflation price increase for customers from next April for the fifth consecutive year.
Its half-year report highlights investments of over £175m on building projects, including upgrades to water treatment facilities in north Wales.
Chief executive Chris Jones said the results were achieved by "hard work".
In June, research by Cardiff University suggested the company is worth £1bn a year to the Welsh economy.
Latest investment projects include new water treatment works processes across north Wales, serving 70,000 customers in Colwyn Bay and Llandudno.
Mr Jones said: "Many of our customers are finding it tough to make ends meet and we are committed to keeping our own costs as low as possible and to help even more of our most disadvantaged customers."
Welsh Water has been owned and managed by not-for-profit company Glas Cymru since 2001.
It has no shareholders, which means any profits are put back into the business.