Wales jobless figure falls and employment at record high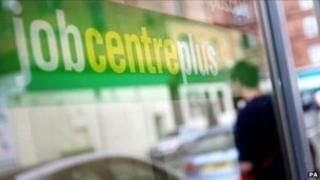 Record high employment figures in Wales have been welcomed by politicians but with a warning more still needs to be done.
Unemployment fell 4,000 in the last three months to 117,000, the Office for National Statistics has said.
Figures for July to September show 1,380,000 people are employed in Wales, a rise of 14,000 on the previous period and 22,000 compared to a year ago.
Welsh Secretary David Jones said the Welsh economy was "gathering pace".
The number employed in Wales rose to nearly 1.4 million, up 1.6% on 2012.
Across the UK, there are 2.47 million people unemployed, down 48,000 on the previous quarter and year.
The figure of 117,000 unemployed people in Wales represents a rate of 7.8% and a fall of 4,000 on the year.
Mr Jones said: "This promising upward trend that we are now seeing in the Welsh labour market is a strong sign that the Welsh economy is now gathering real pace on the road to recovery. '
'Very encouraging'
"We now have record numbers of people in employment, and are seeing a continued fall in the number of young people out of work."
He added: "This government has a plan for the long-term, and we are committed to the task of securing a strong, sustained and successful recovery for Wales and the UK as a whole."
The Welsh government's Economy Minister Edwina Hart said: "These figures are very encouraging and are consistent with a number of other positive economic indicators for Wales over recent months.
"However, despite today's figures it is clear that conditions are still difficult."
Mrs Hart said they were focused on supporting economic growth and "fighting for every job, every export opportunity and every investment".
Eluned Parrott AM, Welsh Liberal Democrat business spokesperson, said: "The economy is picking up and people are starting to feel it, employment figures are continuing to move in the right direction, but there is still a long way to go."
Plaid Cymru welcomed the overall figures but said the number of unemployed women had risen.
Alun Ffred Jones AM, the party's economy spokesman, said: "Women will play a key role in a Welsh economic recovery and it is deeply concerning that female unemployment continues to rise.
"We know that further cuts are going to take place in typically female workplaces, such as local government, which will worsen this situation."
Iestyn Davies, of the Federation of Small Businesses in Wales, said: "These latest figures once again show that unemployment is moving in the right direction, with 22,000 additional jobs having been created in the past year."
He said small and medium businesses were the "key driver to growth", and called for the Welsh government to do "all it can" to support them.
Wales TUC general secretary Martin Mansfield was encouraged but he was worried about the quality of the jobs being created and said the workforce was getting poorer.
"A record number of people are stuck in part-time jobs because they can't find full-time work, while real wages continue to shrink fast despite falling inflation," he added.