HSBC to shut branches at Llangollen, Conwy and Beaumaris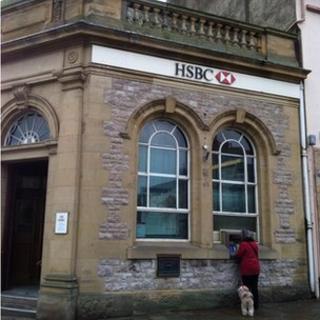 HSBC is closing three banks in north Wales saying customer usage had "fallen dramatically" due to internet banking.
The branches at Llangollen, Beaumaris and Conwy - which is the only bank in the town with a cash machine - are due to close in February.
The bank said it needed to ensure its branches were in the "right locations"
But town leaders have criticised the decision and have called for the bank to reconsider closing the branches.
Aberconwy MP Guto Bebb said: "The withdrawal of these services in a major tourist destination is a mistake and I will be asking for HSBC to rethink this decision."
In Llangollen the town mayor Bob Lube said the closure was "terrible news" for residents, businesses and tourists.
He added: "I'm very surprised by what the bank is claiming about the economic viability of Llangollen branch in view of the huge number of tourists who visit our town, especially during the summer months."
A HSBC spokesperson said: "We need to ensure that our branches are in the right locations for our customers and on occasions this means that we need to close a branch where customer footfall has fallen dramatically or there has been a shift in customer shopping patterns."