Construction site spot check findings concern HSE in Wales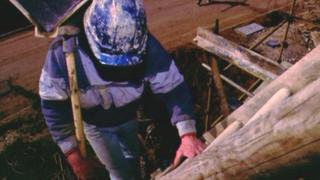 Almost a third of construction sites in Wales are carrying out dangerous practices, according to Health and Safety Executive (HSE) spot checks.
Of the 127 sites visited in September, 40 did not meet basic standards, it says.
Construction union Ucatt says it wants more checks to be carried out to find firms which are not protecting workers.
The latest figures show there has been no improvement since the last inspections in April.
The HSE, which also records fatal accidents, says there were four fatalities in Wales this year compared with one last year.
But overall the number of such deaths has been reducing in England, Scotland and Wales in recent years.
Thirty-nine were killed between April 2012 and March 2013, down from 48 the year before, according to a HSE report.
Nick Blundell, regional secretary for UCATT's Wales and South West Region, said: "As the construction industry emerges from recession and workloads increase there is a strong likelihood that deaths and injuries will increase unless urgent action is taken now to improve construction safety."