Remembrance Sunday services held in Wales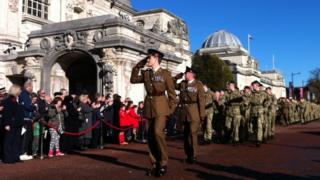 Services have taken place around Wales for Remembrance Sunday with a national event at Cardiff's Welsh National War Memorial.
First Minister Carwyn Jones and other Welsh party leaders laid wreaths at the memorial while other major services took place in Swansea and Wrexham.
Communities elsewhere hosted smaller ceremonies at war memorials and churches.
A two-minute silence was observed around the country at 11:00 GMT.
In London, a World War Two veteran from Bridgend marched at the Cenotaph, representing the first official recognition of Britain's "Secret Army" in the commemorations.
Events taking place included:
Swansea and West Glamorgan branches of The Royal British Legion organised services at St Mary's Church on Sunday and at the city cenotaph on Monday
In Wrexham, the annual service of remembrance took place at the Royal Welch Fusiliers Memorial, Bodhyfryd
Sgt Cath Jones, from Llanymynech in Powys, joined more than 100 personnel from 83 Expeditionary Air Group (EAG) at a weekend remembrance ceremony at a base in the Middle East. It is responsible for UK air operations across the Middle East and Afghanistan
In Cardiff, Wales' national Sunday remembrance event at Cathays Park was hosted by Cardiff Council, the Welsh government and The Royal British Legion
Detachments from the armed forces took part in a march from King Edward VII Avenue via Museum Avenue to the memorial.
The first minister wrote in the order of service that the relevance of the remembrance tradition remained "undiminished" with British troops on duty around the world.
Meanwhile, 88-year-old Dillwyn Thomas and some members of the highly secretive Auxiliary Unit paraded at London's Cenotaph.
Although never deployed, they would have been the final line of defence in the event of a German invasion of the British mainland and were trained to cause havoc.
'Keeping secrets'
The Coleshill Auxiliary Research Team (CART), the group behind the British Resistance Archive which is the largest collection of research into the unit, worked with The Royal British Legion to have the veterans included in the march for the first time.
"Don't get me wrong, I'm honoured to be asked to march by the cenotaph. I only hope my legs hold out long enough - but it's not something I'd ever say I've missed," said Mr Thomas.
"I just accepted that being anonymous was part of the deal.
"After the war, I'd just got so used to keeping secrets that it didn't even dawn on me to tell my own family what I'd done for another 30 or so years."
He was just 18 when he was taken aside during a Home Guard drill, and asked to become part of the secret guerrilla force.
The Coleshill Auxiliaries were Prime Minister Winston Churchill's own invention, and were named after the Oxfordshire base where training took place in the use of explosives, living off the land, and learning to kill.
Yet by day Mr Thomas remained a farmer's son.
"It was the perfect cover really. I didn't get asked any awkward questions because everyone knew how important farming was to the war effort," he said.
"I was taken at night in an army car. Of course, there were no road signs during the war in case of German invasion, and so I didn't realise until years later that I'd actually trained in a base in Oxfordshire."
His local knowledge as the son of Margam Estate's home farm manager was crucial.
'Ambushes and booby traps'
That stretch of the south Wales coastline was of particular importance to the plan because of the Great Western mainline, Port Talbot steel works, Llandarcy oil refinery, Island Farm prisoner of war camp and many munitions factories.
"If the Germans had landed, and it'd looked as though they were making inroads west, we were to blow the steel works, oil refinery, train line, and anything else which could have been of any use to them, then lay low in the countryside," he said.
"We weren't meant to fight the Germans head-on - there were nowhere near enough of us to make a difference and we weren't sufficiently armed.
"But if we could slow up their progress, then the hope was we could have harried them with ambushes and booby traps.
"Of course I'm delighted that it never came to that, but I must admit that there's a tiny part of me which is disappointed that I never got to test my training in battle."
The confidential nature of his service has meant Mr Thomas and others like him have long been omitted from all official commemorations.
Tom Sykes, founder of CART, said Auxiliary Unit members deserved recognition having effectively signed up for a "suicide mission".
"The situation could very well be that this will be the first and the last time these veterans will get the nationwide recognition they deserve and so this Sunday will be a hugely moving and proud day for all of us involved," he said.