North Wales Korean War veterans branch disbands due to age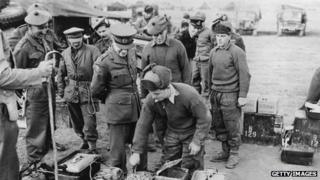 The north Wales branch of the British Korean Veterans Association has held its last meeting.
The group of former servicemen has decided to disband because they say their numbers are dropping, and they are all getting too old to carry on as a formal organisation.
The national association is also being wound up.
On Remembrance Sunday, the north Wales branch members will lay their last poppy wreath before they call it a day.
All of the members were men who had served in the Korean War, which lasted from 1950 to 1953 and the British Korean Veterans Association was set up after the war to provide support and a network of friendship to those who were involved.
But it is now 60 years since the Korean War ended.
Dennis Tunstall, chairman of the north Wales branch, said none of the members were getting any younger, so it was time to call it a day.
He said: "We need to disband, simply because nature is taking over, we're suffering a natural decrease each year.
"Most of us are in our 80s now," he said.
He added that the problem was on a national scale and that the British Korean Veterans Association was also being wound up.
The war began when North Korean troops invaded South Korea in 1950.
British forces became involved as part of an international operation authorised by the United Nations.
Mr Tunstall said that his association had kept memories alive of what is often a forgotten war.
He said: "People were sick of it. They'd had six years of world war, and [Korea] was the other side of the world from Europe.
"We've got plenty of instances where people came home from Korea and their pal would say 'I've noticed you've not been around, where've you been?'."
Members of the north Wales branch have said they hope to get together for lunch in the future.
Ron Hardwick was a cook attached to the 20th Field Regiment Royal Artillery, and now lives in Rhyl.
"The comradeship is second to none. You can't find a better crowd of people. They're so helpful. You can ask them anything. It's a good camaraderie, it really is, you can't knock it," he said.
'Your buddy'
Albert Baker is a Korean War veteran who lives in Llandudno, Conwy. He said it was important to keep friendships alive.
"In the Army, you had a certain comradeship and it carried on in our meetings. We're all friends, we're all pals and that will always last.
"It's just a natural reaction, that an ex-servicemen is your buddy."
And those buddies will lay their final poppy wreath as an association on Sunday, before a church ceremony later this month to mark the end of an era.