Welsh government 'spent nearly £50,000 on 88 new televisions'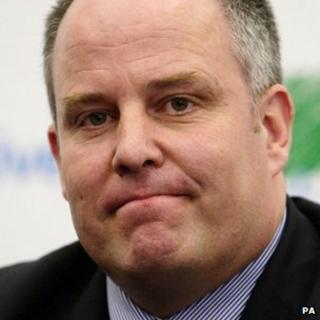 The Welsh Conservatives have criticised the Welsh government for what they claim is opulent spending on newly refurbished offices in Cardiff Bay.
New figures, obtained by the party, show that 34 tables were bought at a cost of around £75,000, valuing them at more than £2,200 each.
Total expenditure on new office furniture amounted to over £600,000
The Welsh government said the work at Ty Hywel was overdue and necessary to improve the performance of the offices.
The figures also show that nearly £50,000 was spent on 88 new television sets at a cost of more than £500 each, while spending on video conferencing and audio equipment over the past three years at offices in Cardiff Bay and Cathays Park in the city centre came to more than £500,000.
Other figures reveal that £25,000 was spent on new television sets last year at Cathays Park, including more than £6,000 on a 75-inch model.
The leader of the Welsh Conservatives Andrew RT Davies said: "These figures demonstrate an appalling lack of judgement by the First Minister Carwyn Jones.
"Labour cuts are hitting local councils throughout Wales and the Welsh NHS also continues to face record-breaking cuts, yet Labour can find millions to pay for brand new televisions, laptops and soft seating.
"Just because you redecorate the living room it doesn't mean you need to buy a flash new flat screen television and while Carwyn sits in his £3.2m luxury offices in Cardiff Bay, his own Labour councillors are warning of Armageddon for public services.
"It is clear that Carwyn Jones has got its priorities all wrong."
Mr Davies said spending more than £6,000 on a 75-inch flat screen TV showed extraordinary extravagance more akin to "a luxury hotel than ministerial offices".
"It all brings to mind the opulence of the last days of the Roman Empire," he added.
Mr Davies claimed the money could have been put to better use paying for a cancer treatment fund such as exists in England, infrastructure investment or to support hardworking people.
A Welsh government spokesman said: "Our office accommodation at Ty Hywel has been refurbished for the first time in 14 years, bringing it up to standard, and including remedial work to repair damage caused by water ingress.
"This work was overdue and necessary to improve both the functionality and performance of the offices, and deal with additional requirements."
The spokesman said the government was achieving "substantial savings from our estate overall".
"As a result of implementing our location strategy for 2010-15, we have significantly reduced the number of offices we operate from and are on course to deliver savings of £18m over the period we expect additional annual savings of approximately £5m from 2015," he added.