Archaeology app Archwilio reveals Wales under foot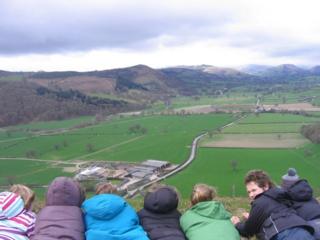 All of Wales' archaeological treasures are to be accessible via an app for the first time.
Archwilio, which claims to a world first for a whole country, will allow users of tablets and smartphones to access records about what lies under foot in both rural and urban areas.
It was commissioned by all four Welsh archaeological trusts and designed by the University of South Wales.
The app will also allow the public to interact and add new information.
Archaeological details are displayed on a map.
Chris Martin, regional archaeologist at Clwyd-Powys Archaeological Trust, told BBC Wales ahead of the app going live on Thursday: "The app has been developed by the four Welsh archaeological trusts who are responsible for curating the historic environment records and the app will allow you to interact with those records on your phone anywhere in the UK.
"You'll be able to call up information about sites which are under your feet and you'll be able to edit those records and add new records and take photographs of them and supply this information back into the historic environment records."
Organisers hope to source more information from the public about the landscape and archaeology of Wales.
"I think people will be quite surprised that it's not just the large things that you can see but there's a great deal buried under your kitchen or under your road - there are going to be discoveries everywhere," he said.
The free app holds information on famous and lesser known sites.
These include details of:
A conservation project undertaken on a substantial so-called lost coastal medieval settlement near St Ishmaels in Carmarthenshire.
A Roman trading settlement alongside the Menai Strait on Anglesey. The app will allow walkers on the Anglesey coastal footpath, which runs through the site, to be made aware that they were walking through a 2,000 year old settlement.
A possible Roman fort near Wiston in Pembrokeshire.
The site of the Cistercian abbey of Strata Marcella. Founded in 1170 it was already partially ruined at the time of the dissolution of the monasteries in 1536 and today there is very little left to see of a once grand religious site.
Ffos y Fran, Merthyr Tydfil - the location of a reclamation scheme of derelict industrial land on the northern edge of Gelligaer. The site has been the focus of intense industrial activity, primarily coal and iron ore extraction, for well over 250 years.
The app will be launched by Culture Minister John Griffiths at the National Museum of Wales in Cardiff.