Reward offer over electricity substation metal thefts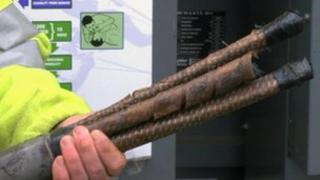 A reward of up to £10,000 is being offered to help catch thieves who steal metal from electricity substations in north and mid Wales.
There have been almost 300 incidents of theft, break-in or vandalism since January 2011.
They include a spate of break-ins in Flint and on Wrexham Industrial Estate.
Scottish Power, which runs the substations, has made the offer as part of a crackdown on thieves.
The firm has been working with police to help bring metal theft-related crime levels down.
"We know there's an awful lot of organised crime," Scottish Power spokesman Paul Ferguson told BBC Wales.
"It's been a major problem and continuing to be a problem.
"But we've been working with the police and the figures are coming down which is encouraging."
He said the Scrap Metal Dealers Act in Wales and England was also having a positive effect.
Scrap dealers and motor salvage operators must now apply for a licence from their local authority and keep records on who they buy from.
Mr Ferguson added that attacks on substations needed to be cut out because of the problems posed to the wider community.
Theft and vandalism can damage equipment and cause power surges to homes, which can potentially cause fires or damage household appliances.
Thieves also leave damaged substations unsecured, which puts children and other passers-by at risk.
"The biggest concern our engineers have is thieves leaving the substations in a dangerous condition," Mr Ferguson added.
"We will pay up to £10,000 for any information that leads to a conviction and we want to really encourage anybody who sees any suspicious activity at all to contact us."
Scottish Power said any suspicious activity can be reported to the company via its 24-hour response line on 08452 727 999.