Housing associations in Wales give £1bn economic boost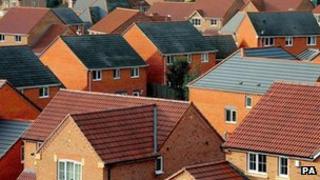 More than £1bn a year is being spent by Welsh housing associations with 80% of the money staying in Wales, according to independent research.
It showed these not-for-profit bodies are playing a vital role, umbrella group Community Housing Cymru said.
Housing associations are responsible for growing numbers of homes, with many taking on council housing stock.
But critics argue central or local government can borrow money far more cheaply to do the same work.
And residents in areas such as Wrexham have voted against moving from council ownership believing housing associations offer less security of tenure.
Nick Bennett, group chief executive of Community Housing Cymru which commissioned the study, said: "This report further demonstrates the true impact of housing associations on the Welsh economy and shows that our sector is about much more than bricks and mortar - it also acts as an economic stimulus.
"There is no doubt that continued investment from our sector is helping to create solid foundations for a healthier Welsh economy.
"In the past year we have pumped hundreds of millions of pounds into the Welsh economy and are constantly innovative in our thinking to continue to invest for the future in order to play an integral part in the Welsh economy and ultimately the local communities we serve."
The research, by Cardiff Business School, showed that housing associations in Wales spent £1.034m in 2012/13, an increase of 8.7% from the previous year.
With most of that staying in Wales, that amounts to an £840m injection into the Welsh economy through house building, repairs and community projects.
Almost a quarter of that was spent building new affordable homes.
Financial powers
Pembrokeshire Housing Association has used a new finance model to begin building 12 new houses in Roch near Haverfordwest.
It borrows from banks to fund the project while the Welsh government contributes the repayment of the "mortgage".
This is the first scheme of its kind in Wales though similar ones are being rolled out.
The Welsh government cannot borrow money at the moment but this is expected to change soon following the announcement last week by the prime minister that further financial powers will be devolved to Wales.
Graham Holmes, from Pembrokeshire Housing Association, said: "For every £10 we spend on housing, the public purse puts in £3 and we put in, through a private mortgage, £7 - so we can basically build more homes for less public money.
"Every housing association has to put in a 30-year business plan to the Welsh government every year and that shows that we are, if you like, a business that can keep going in the long term."
Building began at the Roch project in September with the construction contract being awarded to a local family firm, WB Griffiths.
Community work
Mark Griffiths from the firm said it was important for local companies to fulfil these types of contracts.
"As a company we belong to a lot of framework agreements within south Wales and unless you're on the framework you won't get a look at the job," he said.
"Pembrokeshire Housing Association [have] been very good to us and we've done a lot of work with them in the locality building a lot of houses."
Community Housing Cymru, which represents more than 70 not-for-profit housing associations and community mutuals in Wales, said this showed the impact spending in the sector had on small businesses.
The umbrella group for the housing associations also pointed to the additional community work many do.
One in north Wales is now providing a meals-on-wheels service on Anglesey after the council withdrew its provision due to cutbacks.
But it remains unclear what impact changes to benefit payments will have on housing associations, their borrowing and their business plans.
The UK government's decision to cut the spare room subsidy from housing benefit - what critics call a "bedroom tax" - has been linked by some to an increase in rent arrears.