National Museum Cardiff marks World War One centenary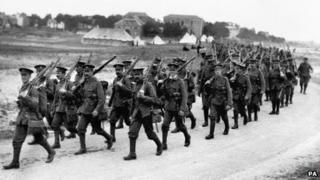 A collection of prints from World War One will be exhibited in Cardiff as part of a global commemoration of the conflict's centenary.
The National Museum Cardiff will display prints commissioned by the Ministry of Information (MOI) in 1917 to raise public support for the war.
The exhibition, in August 2014, will examine the changing role of women as a result of the war.
It is part of a project involving 37 countries to mark the centenary.
The First World War Centenary Partnership, announced by the Imperial War Museum (IWM), involves 1,800 organisations around the world staging events between 2014 and 2018.
Of the 500 new exhibitions and galleries opening around the world, 200 will launch in 2014 in 14 countries.
The National Museum Cardiff will host The Great War: Britain's Efforts and Ideals, from 2 August, 2014.
It is a series of lithograph prints from the museum's collection, which was commissioned by the MOI to encourage support from a war-weary public.
Prof Sir Deian Hopkin, president of the National Library of Wales and adviser to the first minister on World War One, said: "The centenary of the First World War is one of the most important commemorations of our time because so many changes were wrought in Britain and in Europe in those four years of conflict and the consequences need to be properly understood.
"The eye-witness memory is fading rapidly but IWM's First World War Centenary Partnership can, through identifying a rich variety of historical sources; ensure that the experience of war, military, civilian, political, economic and social, can be related to a new audience through digitisation and other means.
"The National Library of Wales' own extensive work in this field will be greatly enriched by the collaboration with other members of the partnership."
Prof Hopkin told BBC Radio Wales: "This is only part of a much wider range of activities, involving restoration of war memorials, schools being given money - in Wales in particular to research what happened in their own community."
He said the National Library of Wales was running a digital programme to make the material available online for free.
Diane Lees, director general of IWM said: "The First World War Centenary Partnership's Programme is vast and continues to grow on a daily basis.
"The thousands of events, exhibitions and resources being produced will allow people to mark the centenary in their communities, in a way that is meaningful to them."