Wales Air Ambulance: Hi-tech incubators boost baby care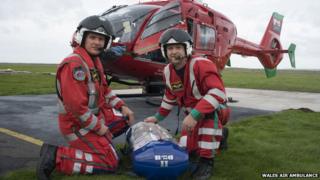 New hi-tech incubators will drastically improve baby care, the Wales Air Ambulance charity says.
The charity has installed the Babypod incubators in its three aircraft.
The service said the carbon-fibre pods will make a vital difference in treating infants up to nine months old.
The portable incubator kits, which cost £16,000 each, will mean babies can be given more advanced treatment while being flown to hospital.
It is the first time the devices have been used in Wales, allowing paramedic aircrews to transport young children in a much safer environment.
"These 'flying incubators' will completely change the way babies receive urgent medical care," said clinical and operations manager Jason Williams.
"Previously, infants would be carried in the arms of a parent or paramedic, but the Babypods provide a safer, warmer and calmer environment for the patient.
"Our highly skilled crews can also provide more advanced treatment in-flight, such as managing a difficult airway."
'Here for everyone'
The pioneering incubators are lightweight and non-metallic, which means they can be used directly in X-ray and MRI scanners as soon as a young patient arrives at hospital.
The pods are lined with shock-absorbing foam to reduce vibrations from the helicopters.
They also have vacuum mattresses which can help immobilise infants while in the air.
"We're here for everyone in Wales, and that includes running the national children's air ambulance for the country," added the operations manager.
"Children often need very specialist care and we can get them to the treatment they need, whether it's Noah's Ark Children's Hospital in Cardiff or Great Ormond Street in London."
The new pods have been installed on aircraft at its three bases in Wales, at Swansea, Caernarfon and in Welshpool.
The money to buy the incubators has come from donations.
"The Babypods will undoubtedly support families up and down the country, and this is thanks to the generosity of the people of Wales," said the charity's chief executive, Angela Hughes.