What is Wales' funding review and what it does it mean?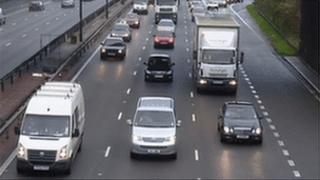 Does the phrase silk road make you think of ancient trading routes between Europe and Asia? Or an underground online black market in illegal goods, recently shut down by the FBI?
If so, you're probably not a Welsh politics buff.
Political animals are more likely to associate the phrase with a new motorway in south-east Wales.
The Silk Commission was an inquiry into how Wales is funded. And it's become bound up with the future of the M4 motorway.
Last November the commission recommended giving the Welsh government new powers to borrow money and vary some taxes.
First Minister Carwyn Jones has been eager to get his hands on those borrowing powers in particular. After today's announcement in Cardiff Bay by the prime minister and his deputy about more powers, Mr Jones will get his chance
Without them, Mr Jones has said £1bn worth of improvements to the M4 will not happen.
Relief
There are plans out to consultation to build a new stretch of motorway around the south of Newport.
The relief road, as it's known, has become a symbol of the tussle over the Welsh government's financial clout.
The Silk Commission was set up by the UK government to think about how Wales is funded.
It published its first report - or Silk Part 1, as it's known - last November.
The Westminster coalition was due to give its response in the spring, and at last it has delivered it.
Silk says the existing arrangements for funding the Welsh government "do not meet the requirements of a mature democracy" and are "anomalous" because the assembly can change the law, but not your tax bill.
The Treasury gives Welsh ministers more than £14bn a year to spend on education, NHS, economic development and all the other responsibilities that have been devolved to the assembly.
Silk says that should change. It says the Welsh government should get some power to vary income tax by 2020, following a referendum.
Control over other smaller taxes should be devolved sooner, it says, as should new powers to borrow money.
The report would give the Welsh government control over, among other things, the stamp duty paid by house-buyers and air passenger duty for long-haul flights. The former is on its way to Cardiff. The latter stays in Westminster.
Taken together the report's 33 recommendations would make the Welsh government responsible for raising around a quarter of its own budget.
The timetable for implementing the report has caused a lot of rowing between the politicians, but Friday's announcement will give a new impetus.
In the 12 months since the report was published, it hasn't been a smooth ride for Silk.