Winston Roddick: Phone records clear North Wales Police Commissioner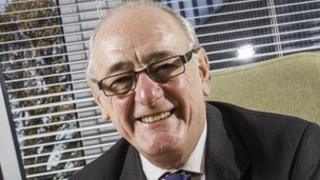 Mobile phone records helped clear the North Wales Police Commissioner of allegations of falsifying his address in the run-up to his election.
Winston Roddick was cleared by the Independent Police Complaints Commission (IPCC) inquiry earlier this month.
The details of the full investigation report have now been published.
The report found there was "no evidence" against Mr Roddick, who was elected last year.
The complaint against the commissioner was made by a member of the public who had written to him at the address on election material.
But when the letter was not delivered, the individual voiced his concerns that Mr Roddick may not have been living in north Wales at the time of the election - a key requirement of being able to stand for the vote.
The IPCC investigation said Mr Roddick informed them that he had moved to the Caernarfon area shortly before nominations for the commissioner post closed in October last year.
Using legal orders, the investigators examined the commissioner's mobile phone records, looking at the first and last calls he made in a day.
'No criminal offence'
"Of the 44 days where records were obtained, the predominant cell accessed in the first and last records of each day was in Caernarfon," stated the report.
"The analysis is quite clear that the historic cell site evidence strongly suggests that Mr Roddick was staying and sleeping in the Caernarfon area for the significant majority of nights during the period of 1st October 2012 to 15th November 2012."
The inquiry also found that Mr Roddick has applied to be listed on the electoral register at an address in Caernarfon on 5 October.
"The evidence suggests that Mr Roddick was certainly leaving his electoral registration late in order to qualify for his candidacy, but regardless he had met the required condition," added the report.
"Considering the evidence provided by witnesses, voters and credit checks, the supporting mobile phone cell site analysis and the account provided by Mr Roddick, in my opinion, there is no evidence that a criminal offence may have been committed by Mr Roddick."