Supporters of Anglesey leisure resort project hold rally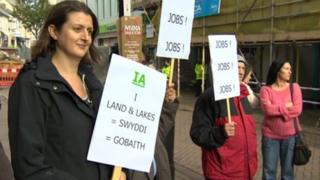 About 100 supporters of plans to build a 800-lodge leisure resort on an Anglesey country park have held a rally at Holyhead.
The controversial Penrhos scheme - which developer Land & Lakes say would create up to 600 jobs - was rejected by councillors last month despite being recommended for approval by officers.
It goes before councillors again next month after a "cooling off" period.
Land & Lakes say they will appeal if planners do not reverse their decision.
"There is high unemployment in the town and we need something," said local businessman Gwyn Pritchard.
"But the way forward is for everyone to get together as you now have the supporters and objectors.
"We need some kind of development here, and we need to get together to reach an agreement."
Hywel Williams, who also runs a business in the town, said he was totally behind the plans.
"It will bring local employment as a lot of jobs have been lost locally.
"Jobs will mean people have money in their pockets which they will then spend."
Under the proposals put forward by Land & Lakes, three developments would take place in the town.
Penrhos coastal park would see 500 lodges and cottages built, alongside a water park, sports hall, spas, saunas and restaurants.
The adjoining Cae Glas site would also be developed to create 315 more lodges. Initially, these would be used to house workers needing accommodation if a new Wylfa nuclear power station is given the go-ahead on the island.
It would also be home to a hotel, football and cricket pitches and a nature reserve.
A third site, on the other side of the town at Kingsland, would see 360 houses built.
Again, initially they would be used to house Wylfa B workers, and those working on other parts of the Land & Lakes development, before being offered on the open market, many as affordable housing.
Robert Llewelyn Jones, an Anglesey councillor in Holyhead, said he was disappointed at how the application was put together, as he said he thinks the application should be split into three - to cover the three distinct areas which are part of the plans.
"I'm also concerned whether we have the infrastructure to support this many dwellings," he said.
Mr Jones added: "I want jobs for Holyhead, of course I do, but I can't see that a leisure park will create 600 well-paid jobs.
"Maybe some part-time jobs, but I'm a bit sceptical whether there will be anywhere near 600 jobs."
The plans will come back to a further meeting of the authority because the refusal was against officers' advice.
Land & Lakes, who have been working with land owners Aluminium Metals, Anglesey council and the Welsh government on the matter, said they would consider appealing if the council continued to oppose the planning application.