GPs 'over-prescribing' antibiotics, says Cardiff University study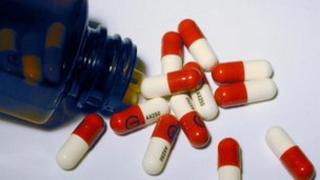 GPs wrongly assume that patients want antibiotics resulting in too many being prescribed, according to a Europe-wide study by Cardiff University.
Research showed that for patients with an acute cough the drugs made little difference to their recovery time.
Experts have voiced concern that over-prescribing antibiotics helps bacteria become increasingly resistant, making the drugs ineffective.
The study involved more than 3,400 people across 13 countries.
Since their arrival in the 1940s, antibiotics have been on the frontline of medicine's battle against disease.
But experts are warning they are becoming increasingly ineffective at a rate that is alarming and irreversible because bacteria is becoming resistant to them.
Researchers at Cardiff and at Antwerp University in Belgium said an acute cough was one of the most common reasons for consulting and for prescribing antibiotics in primary care.
Patients taking part in the study were asked if they expected, hoped for or asked for antibiotics when consulting their doctor for acute cough.
Researchers found that the recovery time taken for patients remained largely the same, whether or not they expected, hoped for, asked for and/or received a prescription.
The study revealed that patient satisfaction with the consultation remained high, whether or not patients actually received antibiotics from their doctor.
However, those who had hoped for antibiotic treatment, but did not receive it, were less satisfied.
Dr Nick Francis from the Cardiff University School of Medicine, who is also a GP in Ebbw Vale, said GPs prized their relationships with their patients, and may prescribe antibiotics because they feared "bad press" if patients did not get well.
'Safer approach'
"But we are saying you can maintain that relationship by equipping patients with good information about what they should be watching out for," added Dr Francis, who has been a GP for nearly 20 years.
"It's a safer approach and they can come back to the doctors once they know what to look out for."
Dr Francis said there were also fears that over-prescribing antibiotics could result in bacteria becoming more resistant to them.
He added: "The study provides clear evidence that patient views are not associated with illness severity and is therefore unlikely to represent a rational reason for prescribing antibiotics.
"Moreover, clinicians are not good at correctly assessing patient views on use of antibiotics.
"We believe it is likely that satisfaction could have been increased through enhanced communication, as has been found in previous studies."
Last year, Dr Robin Howe of Public Health Wales said increasing resistance to antibiotics could lead to more illness and deaths.
Dr Howe said clinicians and patients must accept they could only be used when they had most benefit.