Cancer treatment waiting times improve in Wales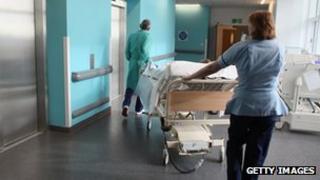 Waiting times for cancer treatment in Wales have improved according to the latest figures.
However, all Welsh health boards are still failing to meet the Welsh government's target for treating the most urgent cases.
Figures for August show that 88.6% of urgent cancer patients had started definitive treatment within 62 days of diagnosis - up from 84.5% in July.
The target is for 95% of patients to see a specialist in that time scale.
Conservative Shadow Health Minister Darren Millar said: "Any improvement is a step in the right direction but it is clear that more progress is urgently required.
"This is a critically-important target that hasn't been met in five years."
Figures for August released by the Welsh government on Wednesday also show 98.5% of patients started treatment within 31 days through the non-urgent route, compared to 98.2% the previous month.
There was a small improvement in waiting times for other cancer cases.
But none of the six health boards that provide cancer care met the Welsh government's target of providing definitive treatment for the most urgent cancer cases within 62 days.
This target has not been met on an all-Wales basis for several years.
Kirsty Williams, Welsh Liberal Democrat leader, said: "Being diagnosed with cancer is a terrifying experience.
"It is appalling that people are being forced to wait over two months until the start of their treatment."
Plaid Cymru health spokesperson Elin Jones said despite some signs of improvement, waiting times for people with cancer remained "unacceptable".
"A Plaid Cymru government would provide all cancer patients with a specialist cancer nurse to guide them through treatment and rehabilitation," she said.
A Welsh government spokesperson said: "We welcome the improvement in the number of patients being seen within the target time of 31 days and the continued achievement of this waiting times target.
"The 62 day performance continues to improve. There are challenges which LHBs [local health boards] continue to address so that this target can be achieved at a sustainable level. These figures show a move in the right direction."