Urgent work to prevent village flooding on Gower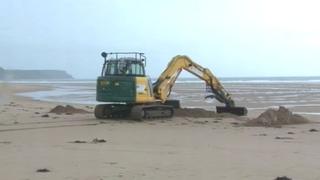 Urgent work has been carried out to unblock a river in a small village on Gower to prevent it being cut off by rising water.
Natural Resources Wales (NRW) removed sand from a channel in Oxwich to restore the flow of water.
It comes as 13 flood alerts were issued for rivers across south, west and mid Wales following heavy rain.
But NRW has reduced these alerts to six and said the weather is expected to improve over the next 24 hours.
A team of engineers has been in Oxwich with a digger to remove the sand, which blew in from the beach and is blocking the flow of water from a channel running through wetlands into the sea.
NRW said the stream was backing up and threatening to cut off the village.
Yellow warning
Nick Edwards, senior reserves manager at NRW, said: "The water that flows down from the marsh has been blocked by the large amount of sand that's been deposited by the high tides recently.
"If we didn't do this then in 72 hours, I imagine, the road will be flooded."
There were reports of surface water flooding in Dunvant, Swansea, and in Pembroke overnight.
The Met Office has issued a yellow warning of further heavy rain for south and west Wales on Tuesday.
The B4296 at Dunvant Square near Brynaeron in Swansea was affected by surface water, although Mid and West Wales Fire Service said they had not received any calls from the area.
Further west, staff at the Field Studies Centre in Orielton, south of Pembroke, reported seeing flooding near their base, including damage to some cars.
A BBC weather presenter said more rainfall through the morning could lead to some localised flooding across south Wales, although the rain was expected to turn to showers in the afternoon.
She added there was unlikely to be widespread flooding but surface water flooding could be a problem.
Looking ahead, there were concerns that further heavy rainfall on Thursday could raise the risk again, with an early warning in place for south and west Wales.