Firms in Wales lose out on Welsh government research bids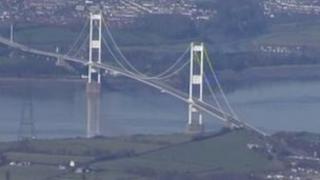 Companies in Wales are being prevented from bidding for some Welsh government research contracts, including the demands of business for Welsh language skills, it has emerged.
While most tenders for work are put out to everyone, ministers in Cardiff have adopted a UK government process to evaluate certain schemes.
Only one company from Wales is registered to bid.
The Welsh government said the process provided value for money.
Only one company from Wales is registered with the department responsible in London, which means the others have been unable to bid for more than £800,000 worth of contracts, including a review of the Welsh government's flagship Jobs Growth Wales programme.
Another research project involved assessing a Welsh government initiative to increase the amount of goods and services public bodies bought from Welsh companies.
'Value for money"
The Welsh government says between 80% and 90% of its tenders are open to all.
A spokesperson said: "We are committed to encouraging Welsh businesses and higher education institutions to benefit from public sector contracts. We purchase the majority of our research via open tender or via our own procurement framework which does include a number of Welsh businesses.
"We occasionally make use of the procurement framework operated by the UK Department for Business, Innovation and Skills (BIS) which provides good value for money."
It said several Welsh organisations had been brought in as sub-contractors.
Organisations such as the consultancies, Iaith and Oldbell 3, and the Cardiff Business School have been involved in some projects.
The information emerged following freedom of information requests by Plaid Cymru.
'Top slice'
The party accuses the Welsh government of failing to "practise what it preaches" by allowing some businesses to be "cut out" of some contracts.
North Wales AM Llyr Gruffydd dismissed the claim that much of the work was sub-contracted back to Wales.
"They take their top slice, they pocket that and they sub-contract Welsh companies to actually deliver large parts of the work , but at a fraction of the cost," he said.
"So the key issue here is that the Welsh economy is in effect a leaking bucket.
"There's a hole in the Welsh economy with all this potential money for Welsh businesses flowing out of Wales. We need to plug that leak."
Iestyn Davies, of the Federation of Small Businesses (FSB) Cymru, said: "The government spends significant money through small businesses and large companies and it's important that the value is felt in the communities where those businesses are based.
"When you spend money outside of Wales, that money's lost to Wales.
"It's a very simple equation.
"So good public sector procurement can leave a long-lasting value and legacy within communities. It doesn't matter how big the contract is, it can still have a real impact on a small local business."