Womex Cardiff: Syrian Ensemble Al-Kindi refused UK visas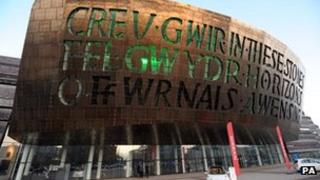 A group of five Syrian musicians has been forced to pull out of a major world music event in Cardiff after they were refused entry to the UK.
Ensemble Al-Kindi were due to appear at the Womex showcase and trade fair running from Wednesday to Sunday.
But the Home Office refused to issue visas amid doubts that the musicians would leave the UK after performing.
Cardiff West MP Kevin Brennan condemned what he called a "disgraceful and mean-spirited decision".
The musicians had been due to appear in the Wales Millennium Centre's Donald Gordon Theatre on Thursday.
Immigration minister Mark Harper confirmed in a letter to Mr Brennan that the musicians were refused entry clearance to perform after the group's management company provided insufficient evidence that they were able to finance the tour.
The minister said the group had also been unable to provide evidence that they intended to leave the UK on completion of their stay, and that "it was not possible to accept their previous travel history, onward travel plans and possession of a valid Schengen visa as evidence that they had intention to leave the UK".
Mr Harper added: "I appreciate the decision to refuse the applications is disappointing particularly as the event has been endorsed by the Welsh government."
Mr Brennan said: "This is a disgraceful and mean-spirited decision by the Immigration Minister which does damage to the UK's cultural reputation and places a cloud over what is a wonderful celebration of world music being held in Cardiff.
"What makes it worse is that there is ample evidence of this group's previous travel history and future touring plans. The UK government should be ashamed."
Womex said in a statement on Monday: "Cerdd Cymru: Music Wales, the hosts of this year's Womex in Cardiff, and the Womex team have been working with the appropriate authorities at the highest level to appeal the decision, but have received confirmation this morning that the decision has not changed.
"Sadly therefore, Ensemble Al-Kindi from Syria will not perform at WOMEX 13, Cardiff."
Up to 60 concerts featuring more than 300 artists will be held at the Wales Millennium Centre, with a trade fair taking place at Cardiff Motorpoint Arena.
The former Catatonia singer Cerys Matthews is the artistic director of Womex and is set to perform at the grand opening.