Welsh companies in £100m green energy projects boost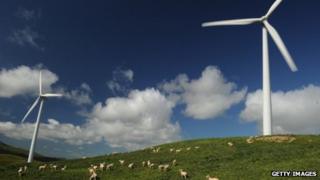 One hundred million pounds is being invested in Welsh companies to work on renewable energy projects which will support 350 jobs.
They include Pen y Cymoedd wind farm which will see 76 turbines across the Neath, Afan, Rhondda and Cynon valleys.
Ruthin-based Jones Brothers and Balfour Beatty have been contracted to provide civil and electrical works at the site.
Owners Vattenfall are also hiring Chepstow-based Mabey Bridge to supply towers for a wind farm in Scotland.
Skilled work
Turbines are expected to be installed at Pen y Cymoedd in February next year with the project fully operational by 2016.
The site is expected to increase renewable electricity generation in Wales by more than a third, producing enough renewable energy to power the equivalent of 140,000 homes.
Huw Jones, managing director of Jones Brothers, said: "We will be drawing on our pool of Welsh engineers and labour to deliver the project, as well as creating new jobs and a skills legacy for the region."
Vattenfall is also hiring a Chepstow-based company, Mabey Bridge Energy and Marine, to provided 18 turbines towers for a wind farm in Scotland.
Mark Coia, managing director of Mabey Bridge, said: "Our significant investment in wind energy technology demonstrates we are committed to the renewables industry and the development of Welsh jobs within the sector for the long term, and this new contract further helps to maintain and develop skilled positions for the 260-strong workforce at our manufacturing facilities in Chepstow."
Piers Guy, Vattenfall's director of onshore wind, said: "These large contracts show that the Welsh workforce has the skills and capabilities to work on large onshore wind energy projects in Wales and beyond.
"We have made clear from day one that we will maximise the opportunities for Welsh companies through Pen y Cymoedd."
He added that there would be "more good news" for suppliers in the coming months in relation to the site.