Children in care: Lottery cash to boost life chances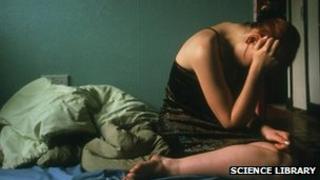 Five million pounds of lottery cash is on offer for a pilot project to improve the lives of young people in care.
Almost 6,000 children in Wales are in care - 20% more than five years ago.
The Big Lottery Fund has commissioned a study into finding new ways of ensuring youngsters receive quality care and can prosper later in life.
Researchers have been asked to develop two proposals for schemes to tackle problems in education, employment, crime and mental health.
"This is an important study and we want to make sure that we take on board existing learning whilst building on good practices and embracing innovation where it is based on sound evidence," said Big Lottery Fund Wales chair Sir Adrian Webb.
'Golden opportunity'
"Children and young people in care are an especially vulnerable group as they often experience multiple and complex transitions.
"For example, they may change foster carers or care home frequently, particularly if they have complex emotional and psychological needs that are not being addressed properly."
He added: "This is a golden opportunity for organisations out there on the ground to work together to tackle this issue.
"They have a real opportunity here to potentially make a real, positive difference to the lives of children and young people in care in Wales."
The fund pointed to research indicating that children in care are more likely than the average child to suffer poor school achievement, mental health problems, involvement in crime, substance misuse, unemployment and homelessness.
A high proportion of the prison population has also experienced or been through the care system, the fund said.
'Success stories'
Despite the grim reading, the fund said some children do well and that its project will try to ensure that all looked-after children in Wales have vital support to overcome the challenges they face.
The local authority areas most affected are said to be Swansea, Rhondda Cynon Taf, Cardiff and Neath Port Talbot while the least affected were Anglesey, Monmouthshire and Ceredigion.
The Big Lottery Fund has named charity Children in Wales as the lead partner in the research working with experts from Cardiff University's school of social sciences and Swansea University.
Sean O'Neill, policy director for Children in Wales, said: "There are many success stories to celebrate... yet the figures show that many children in care do not succeed as well as we would wish.
"By identifying interventions that have been seen to work, we hope that any future funds made available will be spent on solutions which help looked after children reach their full potential."