European Investment Bank loans could unlock EU aid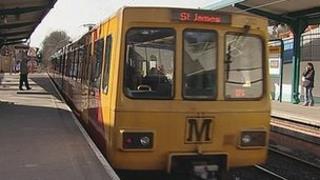 Ministers have held talks with the European Investment Bank (EIB) to see if loans can be secured to boost some of Wales' most deprived communities.
West Wales and the valleys qualifies for £2.1bn of new EU aid that must be matched by public or private cash.
Projects in the region qualify for the money due to its poor economic performance.
Ministers have said Wales must not "sit back and wait" before using the money, despite public spending cuts.
But a leading academic has warned Wales risks being "left behind" as other traditionally poorer areas of Europe see far higher growth levels.
Finance Minister Jane Hutt told BBC's Sunday Politics Wales programme the EIB was "looking at ways they can help us, until we get our borrowing powers, in perhaps different ways to fund projects".
"This is not a time to sit back and wait - we have to get on with the job, and the European Investment Bank is very keen to work with us on this," she said.
The west Wales and the valleys area comprises Anglesey, Conwy, Denbighshire, Gwynedd, Ceredigion, Pembrokeshire, Carmarthenshire, Swansea, Neath Port Talbot, Bridgend, Rhondda Cynon Taf, Merthyr Tydfil, Blaenau Gwent, Caerphilly and Torfaen.
One scheme that could receive EIB loans is the South Wales Metro, an ambitious blueprint to link train and bus service across Cardiff and the valleys.
Mrs Hutt has already announced £62m will come from the Welsh government for the project.
The EU money is available from 2014-2020. West Wales and the valleys received around £1.9bn in 2007-13, and a similar figure in the previous seven years.
Mrs Hutt denied the money had failed to have an impact.
She said: "This is about transport links, it's about regeneration, it's about helping businesses with research and development.
"You can give all the numbers but these young people who have had training, does it lead to jobs? That's the important test really of how we've used our (EU) funding and it has led to these young people getting jobs."
But statistics collected by the EU suggested other areas had seen higher levels of economic growth after receiving similar funding to west Wales and the valleys.
'Dependency culture'
Dr Adrian Healy, from Cardiff University's School of Planning and Geography, told the programme: "Previous places which have had low GDP growth, low employment, productivity value similar to Wales - and west Wales and the valleys in particular - are seeing higher levels of growth and higher rates of growth over the last five, seven, 10 years and that puts west Wales and the valleys in a particularly difficult situation.
"We have a low level of activity, and it's not getting much better in comparison to those other areas that might have been seen as being similar. There is a risk of being left behind, in that sense."
The Conservative Aberconwy MP Guto Bebb said the money invested so far had not transformed the Welsh economy as hoped.
"If you travel the length and breadth of Wales you will find examples of waste within European structural funds which should really make us feel very ashamed," he said.
"You will find arts centres which have closed, cultural centres which have closed - all this investment in buildings which look very impressive but no funding in place to keep them running.
"And rather than create an entrepreneurial spirit, European funding has actually contributed to the dependency culture we have as a country."
Sunday Politics Wales is on BBC One Wales at 11:00 BST on Sunday, 20 October.