Conductor Michael Francis joins BBC National Orchestra of Wales tour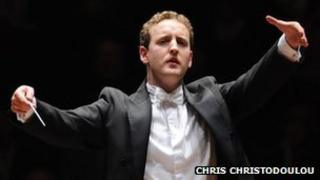 British conductor Michael Francis will be joining the BBC National Orchestra of Wales when it tours mid and north Wales next month.
The orchestra will visit Aberystwyth, Bangor and Llandudno on three consecutive dates in November.
Francis is making his return to Wales for the tour having previously studied music at Cardiff University.
He joined the London Symphony Orchestra as a double bassist, but turned to conducting after an emergency call up.
He replaced Russian conductor Valery Gergiev, who had to miss a rehearsal due to a flight delay, and has since opted to continue conducting.
The concerts feature cellist Daniel Muller-Schott, who will perform Dvorak's Cello Concerto, while Tchaikovsky's Symphony No 6 Pathetique will also be performed.
They will take place at Aberystwyth Arts Centre, Aberystwyth (8 November, 19:30 GMT); Pritchard-Jones Hall, Bangor University (9 November, 19:30) and Venue Cymru, Llandudno (10 November, 15:00).