Housing benefit changes: Report warns of 'problems' for Wales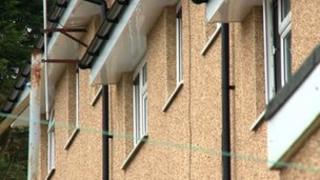 Changes to housing benefit - described by critics as the "bedroom tax" - will cause potential problems in Wales, a cross-party MPs' committee has warned.
The reforms mean housing association and council tenants see benefits cut if they are deemed to have spare bedrooms.
But the Welsh Affairs Committee fears there is a shortage of smaller homes available for rent for those looking to downsize.
The UK government said money would be made available for the most vulnerable.
Since April the reform has meant a 14% cut in benefits for one spare room and 25% for two.
Around 40,000 tenants in Wales are affected by the changes which mean they must choose between losing some of their benefit or moving to a smaller home.
But according to the committee, there could be a shortage of one and two-bedroom homes for those who wanted to find smaller properties.
The MPs said in the report: "We recommend that the government issue discretionary guidance on the appropriate size of bedrooms in social rented sector accommodation.
"The Department for Work and Pensions (DWP) must closely monitor whether local authorities are struggling to find alternative smaller accommodation for tenants who wish to downsize.
"If this is so, we urge the government to undertake a speedy review of this policy."
It said the DWP should also monitor "whether the movement of tenants to smaller accommodation in the private rented sector leads to long-term savings in housing benefit expenditure".
Rent controls
It added that renting privately may prove more expensive and the government's assertion that the under-occupancy policy would reduce rent prices in the private housing sector had yet to be proved.
It called for direct rent controls in the private sector which would prevent rents from going above a certain level.
The report says: "We acknowledge that one of the main reasons for recent increases in the housing benefit bill and projected further increases is inflation in private housing sector rents.
"Efforts to control housing benefit increases therefore have to include strategies to manage spiralling rents in the private rented sector, including direct rent controls."
This recommendation was endorsed by the committee, despite the opposition of its chairman, Monmouth MP David Davies, and fellow Conservatives Guto Bebb and Glyn Davies.
Last week, Mr Davies told BBC Wales the housing benefit reforms were not working as well in Wales as in London or Birmingham but he still backed their introduction.
'Severe pressure'
Welsh Local Government Association (WLGA) welfare reform spokesman and Swansea councillor David Phillips said: "I have met many of my local residents to talk through the challenges that these reforms are creating for them, and what is plainly obvious in most cases is that the bedroom tax reform places some of our most vulnerable residents under severe financial pressure, while offering them no viable way to change or improve their situation.
"There are simply not enough smaller properties for people to move to.
"We hope that the UK government will consider and learn from the findings of this report as they review the impact of their policies and implement other aspects of welfare reform," he added.
A DWP spokesperson said: "Housing benefit continues to pay the vast majority of people's rent, but the taxpayer can no longer afford to cover the costs of spare bedrooms.
"However, we have made £6.2m available to Welsh councils to support vulnerable people, with an additional £880,000 available to help those in rural parts of Wales."
The committee said it wanted to know what the definition of "vulnerable" tenants was.
Charity Community Housing Cymru said the report's findings echoed its own concerns.