Wales unemployment falls by 1,000 to 120,000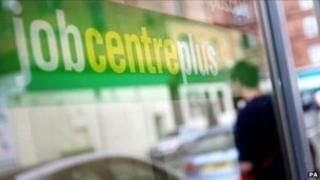 Unemployment in Wales has fallen by 1,000 in the last three months with 120,000 out of work, the Office for National Statistics (ONS) has said.
The rate has fallen from 8.2 to 8%, while the figure is 4,000 lower than the same period last year.
The number of people in employment in Wales is up by 11,000 over the three months but down 3,000 over the year.
Welsh Secretary David Jones said it showed the UK government was "setting the conditions for growth".
He said Wales was "beginning to see the benefits".
The Welsh government also highlighted figures showing the number of economically inactive people in Wales had fallen by 3,000 over the past three months.
"These figures reflect our ongoing commitment to support businesses in Wales," it said in a statement.
Across the UK unemployment fell by 18,000 in the June-August period to 2.49 million, and the unemployment rate remains unchanged at 7.7% from the previous three months.